Originally created and brought to life by writers in 1991, Deadpool, or as some of you may prefer "Mr. Wade Winston Wilson" is an infamous marvel character who we all love for his sarcastic humor, his slightly unhinged personality, anti-hero-Esque, hilarious and brutal personality. Deadpool is a different sort of superhero, he breaks the mold and that is what most of us just love about him.
Mr. Wilson is a sort of anti-hero, he's funny and it's sarcastic, something we all love to see on the big screen. It's no surprise how he became such a popular character for Marvel and DC fans and now if you any attend any cosplay convention you will see just how popular he is, people love seeing the Deadpool costumes, it really brings people together. I know some of you reading this may be looking for a Deadpool costume for a party or another type of event that isn't a cosplay event but just know you are in great hands here with me and I can't wait to show you the Deadpool costumes that are perfect for any occasion.
I Love Cosplay! (It's No Secret By Now)
I made this blog to share my love for cosplay and dressing-up in general, I get such a thrill out of it and knowing that the people reading my content are new to the world of cosplay and looking for some inspiration or seasonal veterans getting some fresh ideas is worth it to me. Being able to show you my top picks, the best place to buy your costumes, and how you can accessorize and make your outfits even better is great fun for me and sharing that with you is a dream come true. Everything I tell you is done with a passion for cosplay and I hope that shines through.
Where to Buy The Perfect Costume
It can be a minefield, I have bought so many rubbish things that either wouldn't fit a barbie doll or things that fall apart at the seams, outfits that are overpriced and just overall disappointing. It can be so hard, especially when there are so many options but through many years of trial and error I have found the most reliable places that always deliver exactly what I want and who I know I can count on so today and in all of my articles I will show you the places where I buy all of my outfits and cosplay costumes, so that you don't have to waste your money like I did.
The Best Adult Deadpool Costume Ideas
I am going to show you men's first, then ladies and then kids' costumes, so feel free to skip on down to your desired category or just scroll through them all and enjoy lots of Deadpool cosplay costumes to inspire and excite you. I hope you love cosplaying as this satirical character as much as me and I hope these costumes inspire you.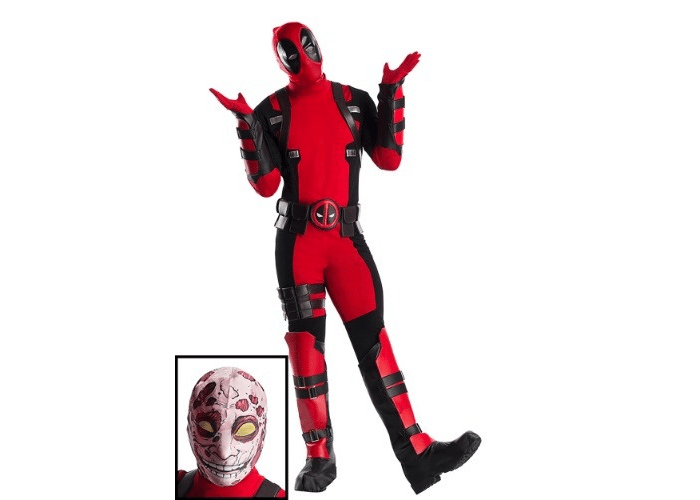 This Deadpool costume is incredible, the quality is fantastic, it's really true to character and for the price you get so much. The thing that this costume has that really gets me excited is the fact that it comes with two masks, one is the standard outer Deadpool mask, the one that we see on Deadpool most of the time, the inner mask is his scarred mutant face, which is an amazing transition and means you could wear this costume with the inner mask for Halloween without doing anything else. Minimal effort with a huge payoff, winning!
The belt features Deadpool's signature symbol on the front, the costume is bright red to make you stand out and to make you really feel like Deadpool as it is his famous look after all. I love this whole set, it's a wonderful creation and if at your next event you want to embody Deadpool and his comedian/mutant/insane character, this costume for price and quality is defintiely my number 1.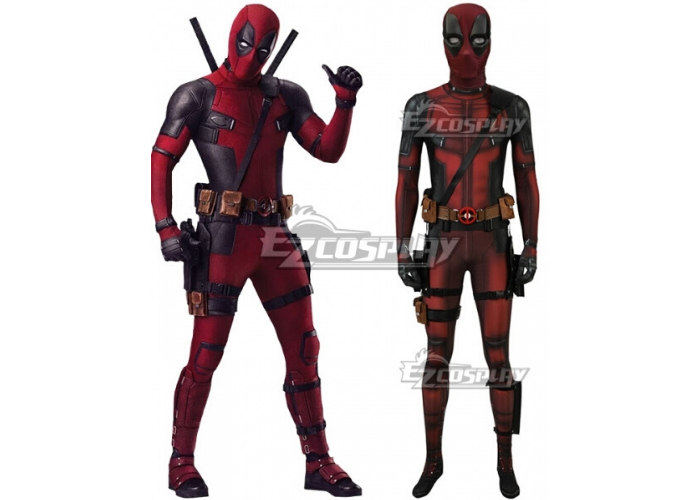 With mind blowing accuracy and high quality detailing this Deadpool costume is a must-have for those serious about cosplay, halloween or parties. With lots of intricacies, small detailing and accuracy this costume will make you stand out, stand tall and embody Deadpool in a way you never seen before. Wether you're serious about cosplay or not, Deadpool deserves recognition and with this costume you are showing the world just how this sarcastic marvel character really shows up and how costume worthy he really is. With lots of accessories that come with it, this costume is incredible and will make any Deadpool wannabe proud.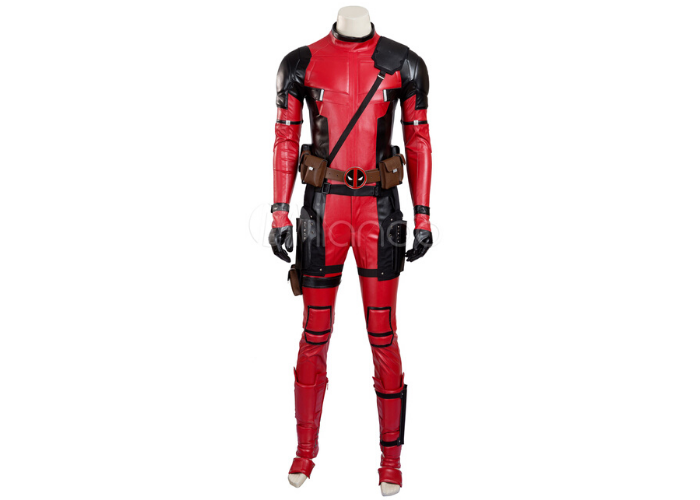 If you're really serious about becoming Deadpool at your next event this costume is amazing. It comes with so many little accessories that really make this outfit come to life, including a belt with little holsters and pockets, gloves, straps and so many other little crevices and spaces fr you to add to your costume and make it really stand out. The suit itself looks like it has just stepped out of a comic book, with high-quality materials lining the entire outfit and paneling that really makes the contrast between the crimson red and jet black highlight itself so that you can stand out wherever you are.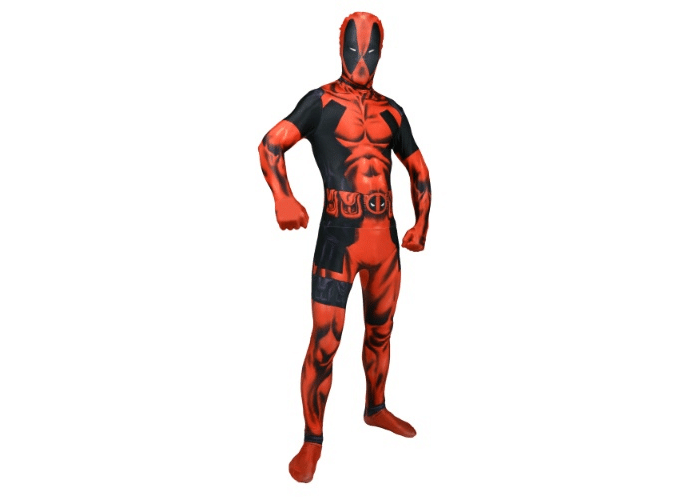 This morphsuit is great for those who are on a tighter budget and want something that is easy to wear, not fussy yet still highlights the character and embodies their simple characteristics. This Deadpool morphsuit is figure-hugging, has etched on details to accentuate Mr.Wilsons strong features making him look lethal. This morphsuit also has the famous belt etched on its waist with impressive detailing and even the signature Deadpool logo on the 'belt buckle'. Some people prefer morphsuits like this one especially if it's for a relaxed event such as a party or even Halloween, the reason being it's simple to just pull on and you're done, however other people like me really enjoy other types of outfits that can be accessorized and played with so whatever you prefer is up to you and your needs.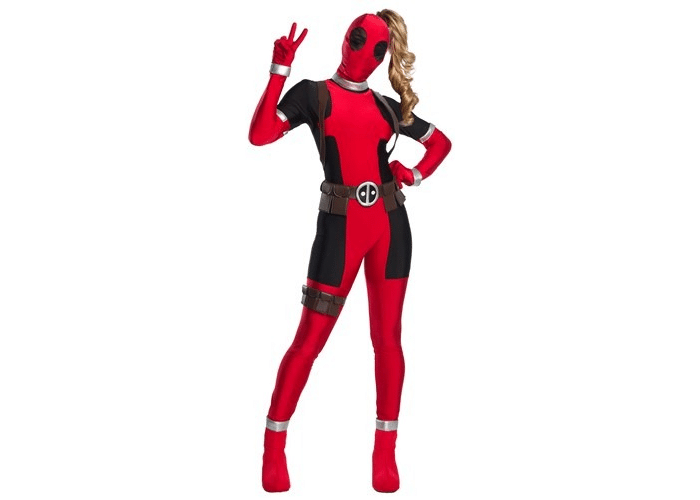 A form-fitting bodysuit that perfectly captivates Deadpool. As we all know, he doesn't care what you are so long as you want to be like him and this women's costume is the perfect choice for any ladies who want to embody Deadpool whilst still looking good. Officially licensed this bodysuit comes with lots of fun and realistic detailing to really bring it to life. If you have a good eye you will notice the ponytail hole in the top of the bodysuit, this isn't just for fashion, this is to match the comic book version of Wanda Wilson who is of course, Lady Deadpool. This is my favorite female Deadpool costume, it's a great price, it looks fantastic, I love the detailing and it allows anyone to cosplay the loveable rogue that is Deadpool.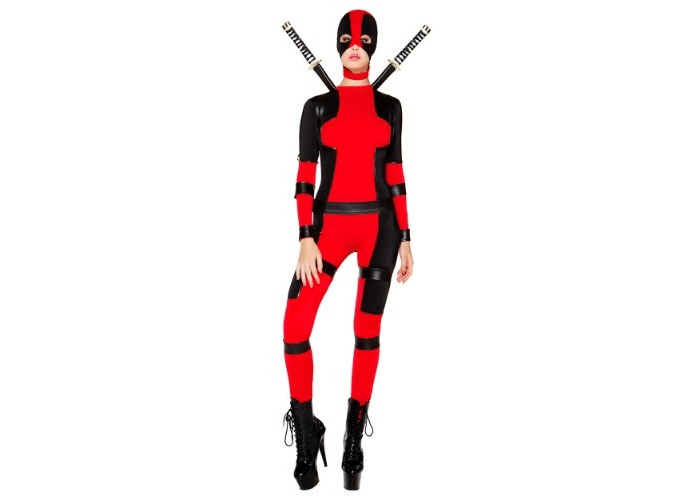 This costume isn't totally Deadpool, it's Deadpool inspired and Ms rebellious isn't one to mess around. A sleek catsuit, hood and harness all await you and transform you into this badass, anti-hero, not to be messed with woman. Ms Rebellious'a costume is easy and comfortable to wear for long periods of time and it looks way more expensive than it actually is. Wear this with a partner to turn up to your event as Mr and Mrs Badass or wear it solo and show everyone who is boss and that you don't mess around when it comes to some crime fighting action.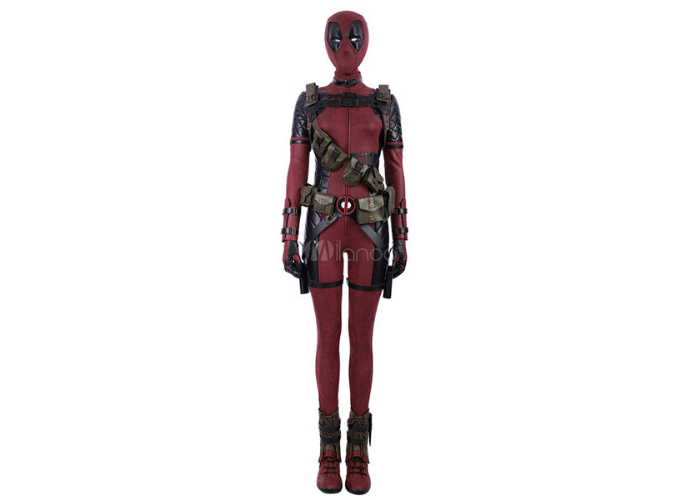 Incredible quality, made from suede, this female deadpool costume will blow the socks off of your competition. It's got so much intricate detailing, paneling, pockets, straps and more, it looks as if it was sold straight from the set of a deadpool movie set or straight out of a comic book. The quality is something I can't boast about enough, it looks incredible on and if you can narrow down the characteristics of Deadpool (I have some tips further on below) it will be hard to tell between you and the real thing. This costume is for serious cosplayers or those who just want to impress at their event, it's outstanding and a real show stopped, especially for the Deadpool fans.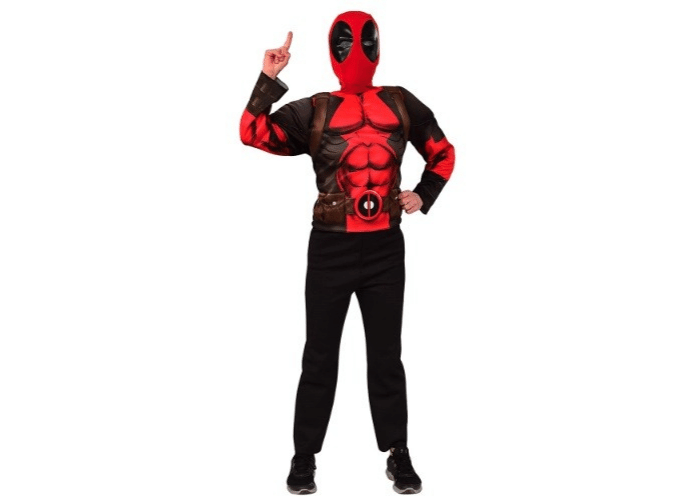 Kids are a HUGE part of the cosplay world and of course attending their own events, parties and Halloween gigs, so it's important to find them something that will make them feel confident, excited and in this case exactly like Deadpool and this costume does just that. It allows you to dress them up or down with the pants/skirt that you choose and allows them to still feel confident running around and doing whatever kids do. This costume has a detailed, impressive top that embodies Deadpool and looks really great and a Deadpool mask that really completes the whole look and will make them stand out.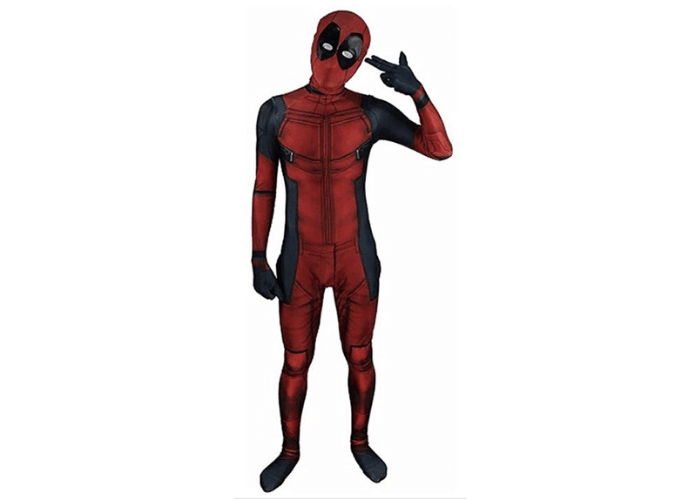 Great quality and ideal for kids who want a jumpsuit to really feel like Deadpool as well as look like him. This costume features the popular red and black colors, except they are a little 'smokey' as if Deadpool has been in some kind of action just before he arrived, it gives the costume a little twist and if there are going to be a few Deadpools around, it'll help yours to stand out. The great detailing, large black panels around the eyes on the mask that give it that classic Mr.Wilson look really combines all together to make a fabulous outfit for mini cosplayers.
How To Make Your Own DIY Deadpool Costume (Accessories)
I can totally understand people who just don't have a big budget for cosplaying or dressing-up, it can get quite expensive if you make your hobby and not everyone can spend the money. Before I knew what I was doing I used to DIY everything, I still do DIY from time to time but back then I had my moms old sewing machine and I used to just make outfits from old materials, I had many fails and I never got good at it but I tried and it made me feel really good so I wanted to share some of my own tips with you of how you can do a Deadpool costume DIY style with just a few inexpensive purchases to jazz it up and bring it to life.
Make It Your Own!
For a simple and easy Deadpool if you can get ahold of a red morphsuit or grab a tight-fitting red long-sleeved shirt with no buttons, some black tight-fitting pants or leggings, and some black shoes. If you have a black strap you can put this across your body and wear a plain black belt around your waist. Accessorize with a plastic weapon such as a sword and you can even draw some black circles around your eyes to mimic those on the hood of Deadpools outfit. It's not perfect but it's a start and it should cost nothing or very little depending on what things you have around your home.
If you have some materials laying around and you have some patience this video is quite interesting and informative and shows you how you can make an actual Deadpool costume with limited resources:
You can use youtube to find ones you think are better.
Get Some Amazing Accessories:
It doesn't matter if you're doing a DIY costume or if you have bought a costume, accessories bring outfits alive. If you don't have an outfit already you can get ahold of a red morphsuit or a tight red shirt, some tight black leggings, or pants then the accessories are going to really bring that simple outfit to life. They are inexpensive and they will allow you to really feel good in your DIY costume and tiptoe into the world of cosplay and dress-up.
The Best Deadpool Masks: This ultra-realistic mask or this amazing wade wilson mask. These masks are fantastic, they are so realistic and either you pair them with an already made costume or with your DIY one. Wearing either of these masks with a red morphsuit or tight-fitting black and red clothes will instantly tell people who you are and you haven't needed to spend much money at all.
Ninja Swords: These are some of the best fake ninja swords I've seen and these weapons are classic Deadpool, strap them over your back and instantly bring an outfit to life, whether it's one of the ones on my list above or a homemade outfit. Deadpool is a badass so he still needs a weapon and these are infamously him.
Pistol: If you don't have a holster in your costume, you don't need to worry slip this Deadpool fake gun into your waistband and get going. Similarly, slide it into your boot, or make at the home holster which is super fun and easy:

Knee-high socks: If you don't want to wear pants you can wear a tight-fitting red or blacktop, a skirt or shorts and then pull up these knee-high socks with the classic Deadpool emblem on them. They will show everyone who you are and they look really cute too.
Shoes (women's): Lady Wade Wilson (Mrs. Deadpool) looks incredible with this fashionable, eccentric bright red leather boots on. You can also re-wear these boots for future cosplay outfits, so they will never go to waste.
Shoes (Men): You can wear your Deadpool costume with any black shoes from suit shes to a nice pair of black boots, even black vans.
Accessories: These accessories can be worn over any outfit to bring Deadpools classic straps, bands, and pads into this world. This set includes so many variations and allows you to really experiment and make your costume your own.
Unreal Deadpool Makeup Tutorial
Deadpool does wear a hood, a mask if you will, however it doesn't mean you have too. Some people don't like masks as it can inhibit your vision a little and if it gets too hot in there you can't unzip as it ruins the flow of the costume. Learning some basic makeup techniques in order to create the character you want under masks or without a mask is really important and really isn't as hard as it looks.
I love special FX makeup as it can allow you to experiment with things like blood, scars, scratches, paleness, ghostly appearances, it can allow you to change your eye shape, lip shape, nose shape, the list goes on. It's a must-have and anyone can use it, it's not just for a specific set of people. You don't have to master it, just know a few hints and tricks in order to bring your characters to life if they don't call for a hood or mask or if you prefer not to wear one.
This is the special FX makeup that i bought and really, really enjoy playing with:
This is how they actually did Ryan Reynolds makeup for him to play the Deadpool character, it is a time-lapsed video but you will see it was a lengthy process and a lot fo work went into it. You don't have to go that far and nobody would expect you too but I thought it was fun for you to see how they actually did it and just how incredible the power of makeup and special FX makeup actaully is for transforming you into somebody else.
The Real Makeup:
This is a makeup tutorial you can follow, it can be a little tricky in parts but it is really well explained and if you don't need all of the tools mentioned, just practice with what you have and learn a little about how you can re-create this look by yourself. It's a great tutorial and the end product is amazing, she also makes it look really easy which is always a good sign!
Intermediate:
Hard:
This makeup tutroail is using special FX makeup and tools, I could never re-create anything like this but maybe you will have a great eye for it, who knows! It's a great video made by a very talented artist who has made one of the best Deadpool transformations I have ever seen.
Face paint:
This tutorial is perfect for those who want something simpler and something they can create by only using afce paint. This face paint is really great for creating looks. It's an informative, easy to follow tutorial, one that you can practice again and again without using up too many resources and making it perfect for you.
How To Play Wade Wilson Perfectly?
I always mention how important it is to not just look the part but to sound and mimic the part too. Narrowing down the character's walk, stance, poses and quotes are all really important in cosplaying your favorite character and standing out amongst the rest. So here are some of the best quotes and the body language you should be focusing on when trying to embody Deadpool and his strange ways.
Quotes:
"Whose balls did I have to fondle to get my very own movie"? I can't tell you his name, but it rhymes with "Polverine."
"Looks ARE everything! Ever heard Dave Beckham speak? It's like he mouth-sexed a can of helium. You think Ryan Reynolds got this far on a superior acting method?"
" [cackles] Fake laugh. Hiding real pain."
"Time to make the chimi-f***in'-changas."
Body Language:
Deadpool is really strong so remember that, he also fears the cure for cancer as it would kill him but that's just a fun fact to remember.
Finger guns.
Throwing The Peace Sign.
Making a love heart with his hands.
Putting his hands against his cheeks with a shocked 'O' expression on his mouth.
Placing one finger on his mouth in an 'oopsie' sort of style.
Who Is Your Favorite Person To Dress Up As?
I adore hearing from you, learning about other people who have the same passions as me. I just wanted to know who your favorite character to cosplay is? Let me know in the comments below and if you have any tips for our budding Deadpool cosplayers, let them know down below too!
Love, Mia.