Whatever the reason that someone is looking to dress up as a certain character or with a certain costume is down to them. I have been cosplaying and dressing up for years now and I can tell you I have had many, many errors when it comes to costumes from something arriving that looks totally different from trying to make it myself and failing big time. I now have just a few stores that I shop at and I trust them wholeheartedly to deliver what I am looking to buy. When I saw that more and more people are getting into prehistoric cosplay and dinosaur costumes for events and parties, I figured why not guide you on where you should be shopping and direct you in the right place?
My Search For An Epic Dino Costume
It can be hard to find dino costumes that aren't low quality, most of the time they seemed to have a large price tag but you weren't paying for quality. It can be really difficult with something as popular as a dino, a lot of people want this type of costume and so the market is saturated with costumes that really aren't that great. Fortunately, I found some really, really great ones that will suit any need and any budget so I really hope you enjoy scrolling through my findings and maybe I will see you at a prehistoric cosplay or party sometime!
I Found Some Real Winners
It was difficult but I found some costumes that I would be proud to see my friends wearing, if you're going as a dinosaur do it with the intention of knowing what you're wearing is going to stand out, be up to standard and look great at the same time.
My Favorite Inflatable Dinosour Costumes
These costumes that I am about to show you are in fact inflatable, some people prefer this as they enjoy the costume to appear larger and more robust, which when you're dressing as a dinosaur it can be important. Some people, however, prefer non-inflatable as you can be a luttle less careful with it and so if you keep on scrolling you will get to my non-inflatable top dino picks.
This inflatable t-rex is a hit, it's incredible quality, it looks the part, it isn't gimmicky and it actually portrays a t-rex pretty well. There's also a clear panel in the neck of the dino so that you have a vision at all times. The costume also stays inflated thanks to the battery pack and fan, this ensures you are inflated at all times and keeps your t-rex looking terrifying. Whatever your reasons, this t-rex costume is a clear winner for me for it's detailing, high-quality standard and intricate finish.
You may also like to know that the famous Youtuber Mr.Beast also wore this costume in this funny dino 100 video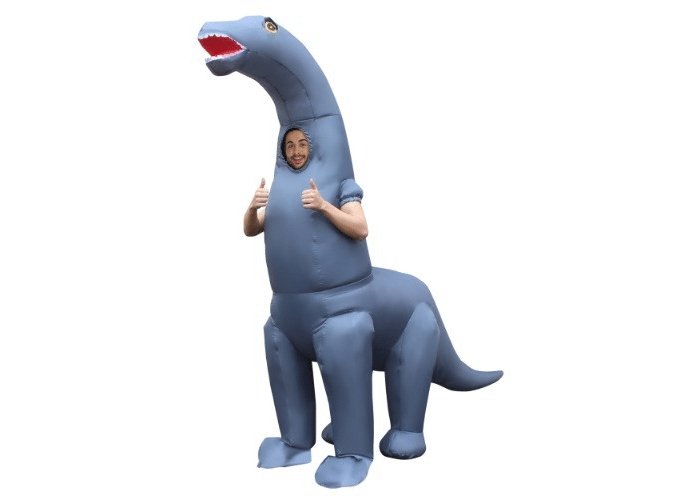 Inflate the costume and enjoying stomping around like a huge brontosaurus, ideal for those who want to re-create their childhood dreams, who are attending an event or party, or for just about any other reason out there. It's a great costume, made from high-quality material, it's easily inflated by turning on the fan and you can keep it on all night as it's pretty comfortable to stomp around in. It makes a difference to the usual t-rex costumes that we see so if you like a bit of difference, this costume is ideal.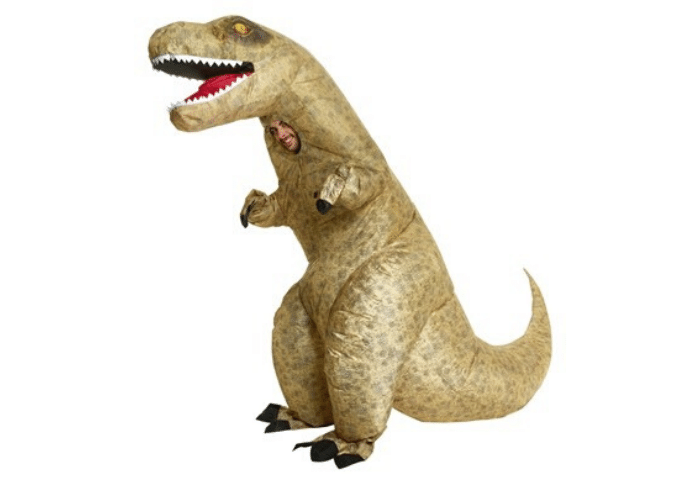 Grand, detailed with lifelike features, a larger size for a bigger overall stature, this t-rex costume has an open hole inside of the neck for you to pop your head through, it has an included fan for easy inflatability and it is easy to put on thanks to the easy to locate zipper. With classic t-rex claws and little arms, this t-rex is a classic, not to forget the detailed sharp teeth, scary yellowing eyes and large ready to eat mouth.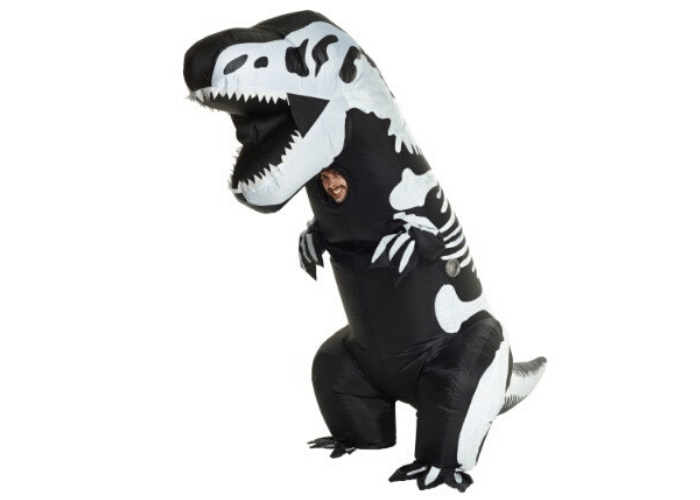 This costume has a little bit of a twist, the skeleton design resembles that of a real dino skeleton so you can turn up to your event as freshly uncovered dino bones, a dino resurrected from the dead for halloween or just wear your t-rex proudly knowing it features something a little bit different. It's a large costume that's easy to inflate, easy to wear and will certainly turn heads wherever you're going.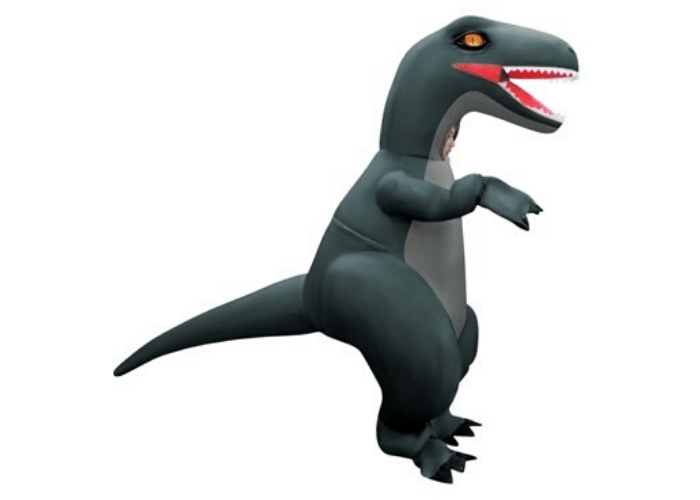 Velociraptors are known for their vicious approach, some experts even say they were to be feared more than the t-rex, their pack mentality and non-relenting hunt was what set them apart from the rest and with this costume you can embody that dino whenever you want too. It's a large costume but it has perfectly embodied the craftiness of this quick dinosaurs. If you're heading to a dino event or you just want to be a little different a velociraptor is a great way to stand out from the rest.
Unpredictable, a team player, just as vicious as their prey, sharp claws and teeth are all features of a velociraptor and this costume allows you to live out your dinosaur dreams with the help of a fan and battery pack. If you're a fan of Jurassic park or more specifically Jurassic world, the velociraptors in that movie were lethal and with this dino costume you can be proud this halloween to be just as scary as they were.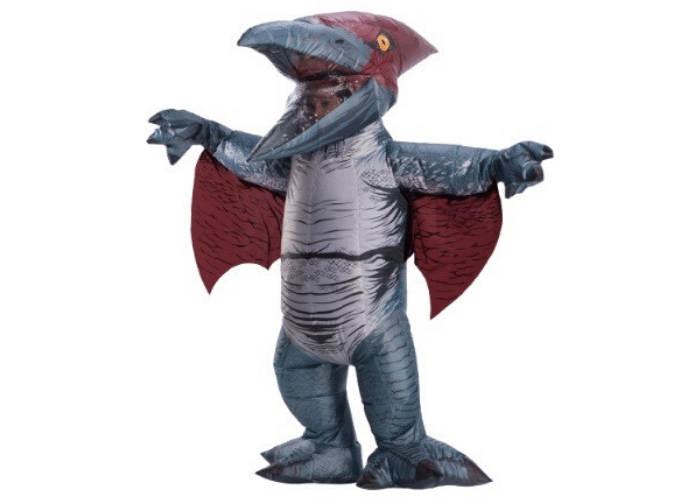 Another one for the lovers of Jurassic world, this pteranodon costume has a modest wingspan, a vicious open beak, claws like daggers and even a battery-operated fan to aid you in blowing up this inflatable dino costume. It is an incredible costume and sets you out as a often forgotten, often overlooked, vicious dinosaur who roamed this Earth looking to hunt and terrify.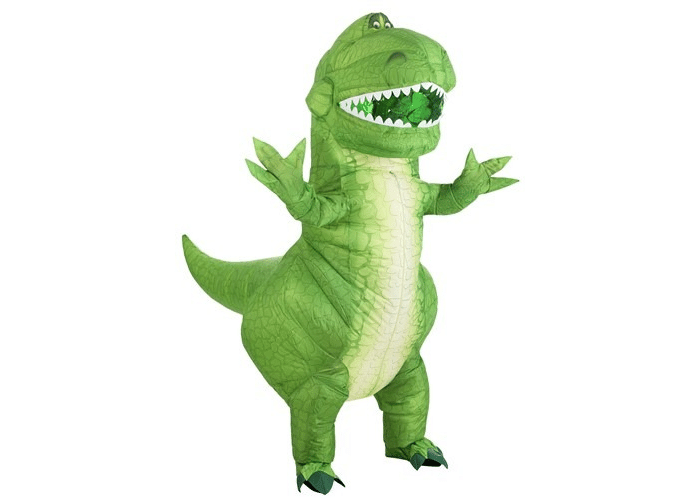 If you're a fan of toy story or you just want a dino who is a little less intimidating, this toy story officially licensed 'Rex' is perfect. The infamous glowing green of this beast, the friendly yet intimidating smile, the small cute eyes and the heartwarming stature, Rex is a big hit and a dinosaur everyone knows and loves.
The Greatest Non-Inflatable Dino Costumes
Now I want to show you my favorite non-inflatable dino costumes, some people prefer this as you don't have to worry about actually inflating them and some just prefer the overall appearance of these costumes over the inflated ones, let me know which you prefer in the comments below.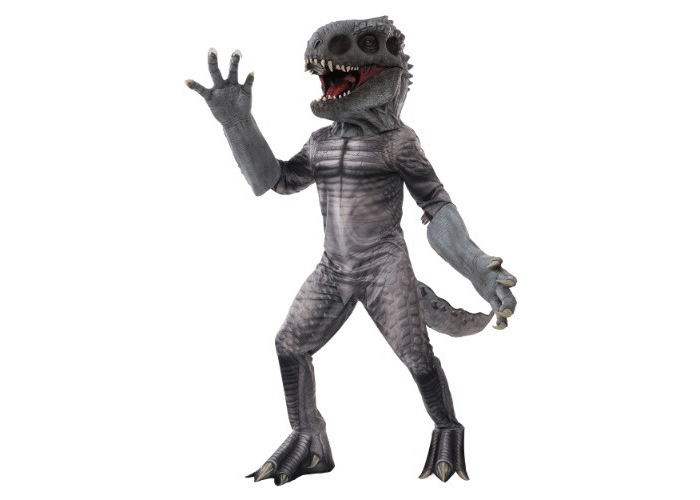 I love this costume, it gives you maneuverability, it allows you to sprint, run, walk, and go about your normal day to day with little interruptions. It comes with the mask, shoe covers, pants, shirt, and attached tail. It's great value for money and a really impressive costume that is sure to turn heads and make you feel like the dinosaur you need to be.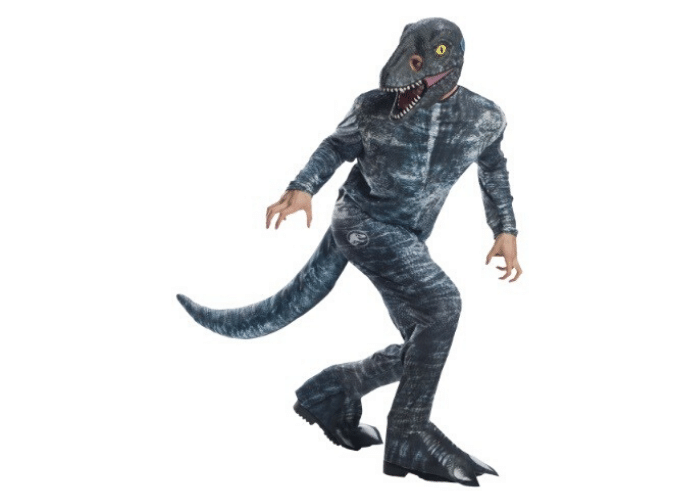 With a tail that swings back and forth as you walk and a soft camo shrouding your skin, this velociraptor costume will allow you to creep up to your enemies and really unleash your inner dinosaur. With an all-in-one jumpsuit, this dino costume is easy to take on and off and will magnificent on almost any person, no matter the reason or event they are attending.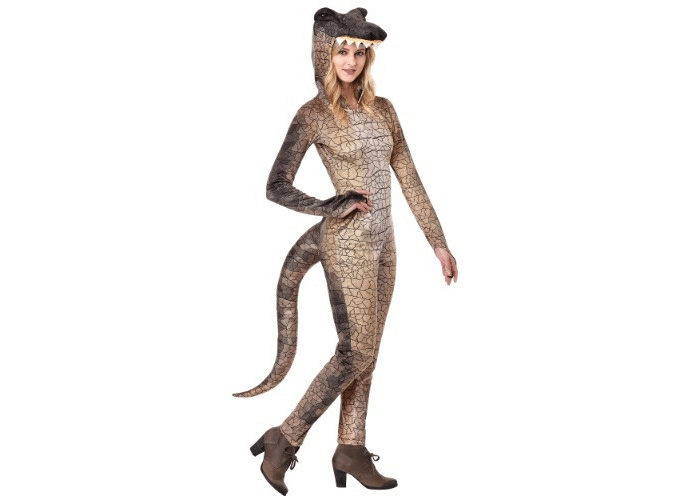 Designed as a hooded jumpsuit, this women's dino costume is great for those who don't want something so intense and something a little less 'in your face'. For extra detailing this costume comes with a stuffed detail, a hood that has little dino eyes and even little teeth. Dress this outfit up by wearing some heels or wear it with some boots to really complete that camouflage look.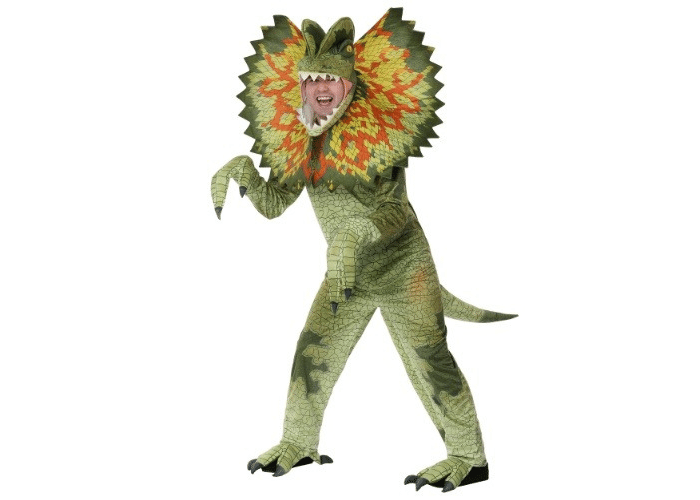 Step aside all other dinosaurs because this dilophosaurus costume will knock you off of your feet. With a double crest on the hood of the costume and a bright and intimidating neck frill, this dinosaur costume is ideal for anyone looking to make a statement and looking to show off their knowledge of dinosaurs. With interesting patterns, claws, teeth and a tail, you will rock your event into the 21st century.
Add Extra Amazing Features With These Dinosaur Makeup Ideas
If you're wearing a hood with your dino costume you may not want to do this but I know some people like to complete the look so if they remove the hood or if their costume has a head hole they can still look dressed up and part of their outfit. Some people like to camouflage their skin the same color as the outfit or some like to take it a step further and do an actual make-up look, these are my favorites down below.
I recommend you get ahold of some special FX makeup as it will allow you to really experiment and try new things with your dino costume and ideas, you may want some blood, some more camouflage or even some scary eyes and all of this is possible with just a few tools. This is the special FX makeup that I use and I find it allows me to create so much with my cosplay outfits and allows me to really experiment and explore my possibilities and my outfits possibilities by making it my own.
Dino Attack Makeup (FAKE CUT WARNING ON THUMBNAIL!)
In this tutorial, you can learn how to recreate a fake dino attack on your body by using just makeup and fake blood. It will seem as though you have just been savagely attacked by one of these creatures and escaped (barely). It can get a little complicated if you have never done anything like it before but once you get the hang of it you can do it too but remember to just start small, don't get disheartened, and re-create something you love.
Cute Makeup Idea:
If you want something cute and something less intense, perhaps you just want to embody a dinosaur and don['t actually want to dress up as one or you want something under yoir hood for when you take it off this glam dragon inspired makeup is beautiful and with some practice really quite easy, you can change the colors out if green isn't for you and replace it with something you prefer. I personally like the green as it gives it a reptilian vibe but everyone is different and that's the beauty of makeup, you can make it your own.
How To Make A Dinosaur Costume (DIY)
If you are on a budget you can make your own dino costume, depending on what materials you have it can cost nothing or a few dollars. It's a great way to experiment and practice your costume/cosplay skills whether you're going to be wearing your DIY outfit or not. Remember practice makes perfect and it probably won't be amazing the first time around but if you can get some basic skills together you may be able to create other looks in the future using skills you have learned.
Even though I buy the majority of my cosplay outfits now, I do from time to time like to DIY some things, it makes it even more fun and sometimes it can really complete an outfit knowing you have made something for it, even if it is something small like a wrist cuff or hair accessory.
Some Funny Dinosaur Ideas
These dino costumes are funny and although a lot of people use them for serious wear such as to halloween parties, competitions and cosplay events, there is still fun to be had and here are just some of the really fun and interesting things you can do with your friends to really make the most of your dino costume and your new mammal pack.
You could race your friends
All of you could dress up as dinos and have a race somewhere out in the open or in someones back yard. It's so funny to watch and it will make a hilarious story, just remember to get someone to film it so you can cherish it forever.
You could go grocery shopping
Make people smile, surprise everyone and head on to your local grocery store dressed as your favorite dino. It's funny and just like I said before get someone to go with you to make sure your okay but also to film you doing it so you can remember it forever and see everyone's faces later on.
You could shoot some hoops
It's something about their tiny arms that makes this so funny, seeing t-rex shooting some hoops instantly makes people smile so why not hvae a game with your friends or just film yourself doing it because there is nothing better than a tiny armed t-rex desperately trying to get that ball into the net.
You could even go to the gym
An interesting idea and if you are ready for lots of stares and for making people's day going to the gym dressed as your dino will create some laughs. It may be a good idea to get some permission from the gym owner first of all so that you don't piss anyone off but all in all it's a great use for your dino costume.
For more inspiration of what fun stuff you can do dressed as a dino you should check out r/trexgonewild, it's the go-to place for dinosaur lovers and a really funny Reddit to just scroll through, especially if you're looking for some ideas that aren't cosplay related on where to wear your costume.
Let me know if you enjoy cosplaying or dressing as a dino and what your top tips are for aspiring dinosaurs in the comments below.
Love, Mia.