I LOVE Harley Quinn, I loved her from the second I saw her in the mixed reviewed 'Suicide Squad' and then I loved to see her really flourish and have all eyes on her in 'Birds Of Prey'. I know that she has been around for much longer than that however by debuting in Batman: The Animated Series way back in 1992. Back then she was the sidekick of the joker, a love interest and we didn't see her as we do now. I didn't read the comics back in the '90s but I know a whole lot of people fell in love with her back then and it should never be forgotten how long she has actually been around. Margie Robbie's rendition of Harley Quinn (a play on the word Harlequin if you didn't know) is incredible and from the first time many of us saw her in Suicide Squad we couldn't get enough of her and now she is one of the most popular cosplayed characters and one of the top Halloween costume picks. We love her and there's a good reason for that too, she is mesmerizing to watch.
Why I Love Cosplaying As Harley Quinn (She's In My Top 5)
If you read my blog you will know that H.Quinn is one of my top cosplay choices, I love dressing like her and embodying her characteristics. Although she is a popular choice amongst cosplayers you can never have too much of her and I just love seeing other people cosplaying her and expressing themselves with her infamous look. She is the ultimate anti-hero she is a villain, she is impulsive, goofy, friendly, smart and capable, she is a loveable monster and that's why I love playing her because she is more than just a pretty face, she is capable of anything, hurting anyone and lets nothing stand in her way. Although I disagree with the way her relationship with the Joker being romanticized by some I do love how many people can relate to the character Margot Robbie plays and can sympathize and understand her as she expresses being in a toxic/abusive relationship, I think she is relatable and although she is crazy she is hard not to love at times.
The Many Looks Of Harley
I briefly mentioned this at the start of my article but if you didn't know Harley Quinn was popular before the movie Suicide Squad, she wasn't played or voiced by Margot Robbie but she did actually exist before her so it's good to brush up on some knowledge before dressing up as it will give you an idea of her history and why she is the way she is and how her relationship with the Joker surfaced. These looks are in no particular order, I just chose the ones that resonated with the girl we all love the most.
Batman: The Animated Series: This is where it all kicked off for her and if you prefer her dressed in her classic Jester style check out this article that I did. This series means a lot to many Miss Quinn fans and it's when she first appeared on our screens way back in 1992.
Gotham City Sirens: A 2009 debut for our badgirl as she appeared in an infamous comic along with Poison Ivy and Catwoman.
Harley Quinn Ongoing: 2000-2004 this comic issued many issues before it eventually flopped however it's important to notice the evolution of her character and once again we see her jester costume.
DC Bombshells: A wonderful comic where we see her relationship with Poison Ivy flourish and her toxic relationship with the Joker has become abusive and we can really resonate with Harley.
Batman Beyond: Return Of The Joker: In 2000 she only appears marginally in this movie and if you blinked you could probably miss her but she is there and we can see a flash into her future if she removed herself from the toxic Joker.
DC Superhero Girls: Voiced by Tara strong in this series we see her facing teenage woes in high school, she is a real class clown, she roomies with Wonderwoman and it's a real chance to see her portrayed in this way.
Suicide Squad: For a lot of people this is when she really came to life for them and Margot Robbie's rendition of the villain is undeniably amazing.
Batman: Assault On Arkham: In 2014 set in the same universe as the Arkham series we see the suciide squad, the Joker and harley all together once more.
Batman: Arkham Series: A lot of people learned Harley's name through this video game and we also saw her dress sense completely change and turn into what we saw her as in the suicide squad. She also featured in Lego Batman Series/Batman Lego Movie too.
Harley Quinn: Birds Of Prey: The movie we all waited for in 2020, she is the center of this movie and we get to see lots of action, her goofy yet vicious character, and lots more DC drama.
If you have any of Miss Quinns debuts that you want to add to my list leave your suggestions in the comments below, I am sure there are some that I have missed so be sure to let me know!

The Best Harley Quinn Costume Ideas
This has been one of my favorite articles to write for you, I love her and I hope that is pretty obvious by now so I am so excited to show you all of my favorite costumes along with accessories, makeup, and quotes and ways you can really embody Ms.Quinn. I have so many and I have tried my best to include everyone and every need on this list so I hope you love it.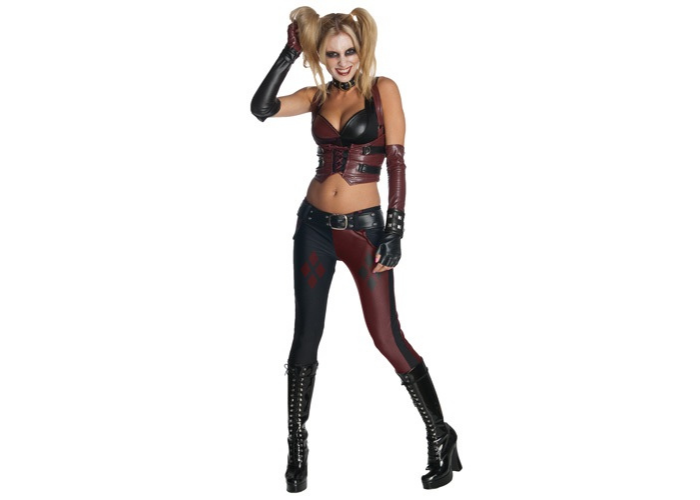 I love this costume, if you're a fan of the Harley who was devoted to the Joker who helped him to escape and the Harley who is going to take on the Dark Knight then I know you're going to love this costume. It gives you an instant H.Quinn look without the price tag, you can play with your own hair and makeup to really transform into her (I have loads of tips on that down below) and everything about this costume screams classic. A lot of people dress as Harley from the suicide squad movie and whilst that look is gorgeous and I totally do it too, it's nice to sometimes dress as a more classical look of hers, yet not forgetting still as psychotic and adorable.
If you want the Harley Quinn that the majority of people think of when you say her name then this outfit is perfect. It is so detailed and comes with everything you need to channel your inner Harley for whatever cosplay, Halloween, or another event you are going too. It has the iconic 'Daddy's Lil monster' shirt, the hotpants, the studded belt, the blue and red jacket, and the wrist cuffs. All you need to do is style your hair, apply your makeup, and get going. It's a beautiful costume with an incredible price tag and one that will make your transformation so easy.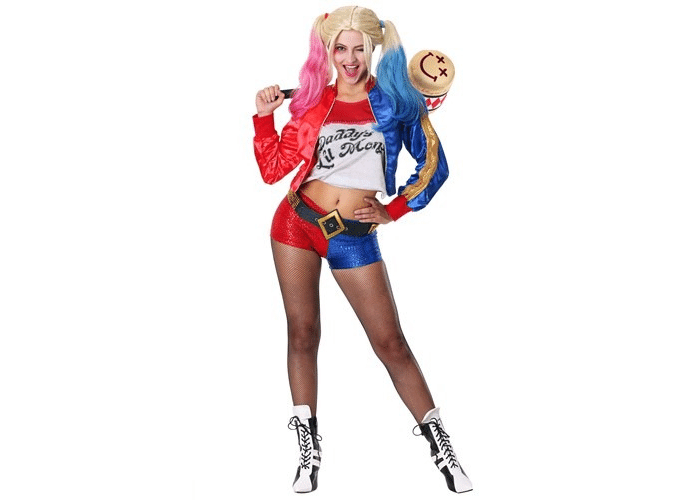 Another classic Harley outfit, this whole costume comes with the fishnet tights (pantyhose), shorts, the studded belt, and the t-shirt/jacket combo with the infamous 'Daddy's Lil monster' etched onto it. Dress this outfit up with heels, a faux weapon, and some drastic makeup or dress it down with boots and simpler makeup. Making your costume yours is what cosplaying is all about and Harley allows you to do that. This set even gives you the option to add on a blonde wig so if you aren't blonde or if you have no means to dye your hair on the tips like she does, you can tie your outfit together with a wig.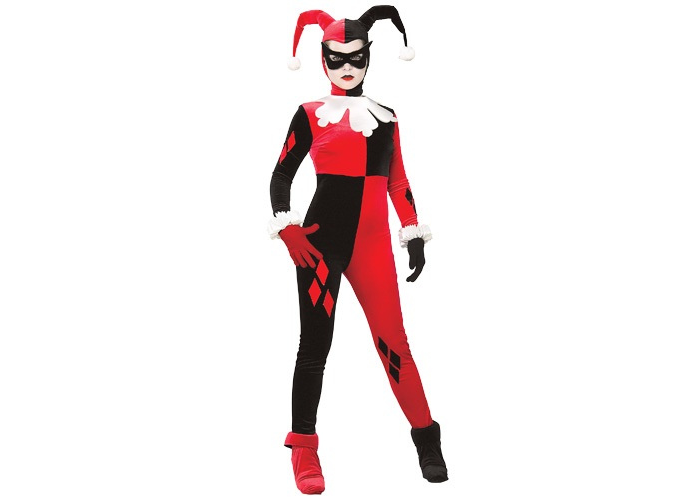 The first time we ever meet Harley in 1992 she is wearing her classic Jester outfit, we see her numerous times more in this classic outfit and so if you have been a fan of hers for a long time or if you just want to show your appreciation to the first-ever Harley, this Jester outfit is perfect. With the big and bold red and black paneling, the jester headpiece with two white pom poms that dangle and move around as your head does, the eye mask that hints at an air of mischief and mystique and the gloves and wrist cuffs that attribute to the whole jester feel of this costume. Wear this one with pride as you attend alone, with a joker, Poison ivy, or the very suicide Squad. Just remember to embody her completely by using her catchphrases and her stance and you're all set to go.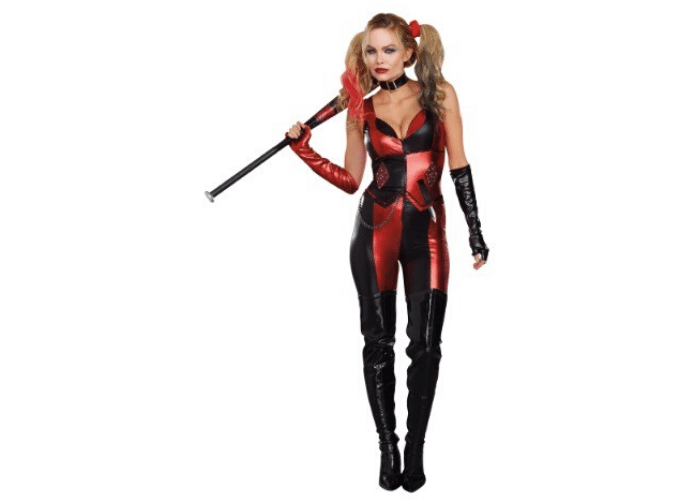 Another one of Harley's classic looks from her Batman and her animated days. She was a jaw-dropper in this outfit and it will look amazing on anyone. It even comes with a fake toy knife for you to slip into your boots or just to keep in your hand to show people that you may look cute but you are still Harley Freakin' Quinn. I love this jumpsuit it's sleek and elongates the body whilst still maintaining its flattering paneling and cuts in all of the right places. If classic Harley is your poison then step right up because this costume is legendary.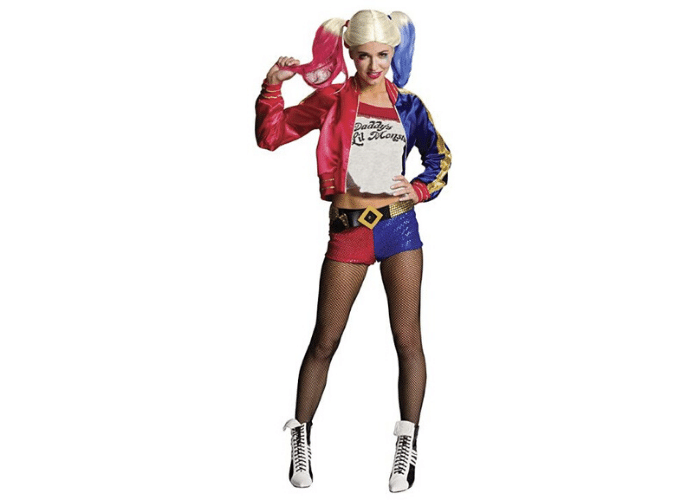 Another Suicide Squad/Birds Of Prey classic outfit for those who just love this look on our favorite anti-hero. It comes with the infamous sequined two-toned shorts, fishnet tights, the belt, her jacket along with an attached Daddy's Lil' monster shirt. It's a really great priced costume, whether it's for a cosplay convention, a Halloween party or just any event, it will transform you into Harley and make sure nobody has any doubt about you who you are what you are capable of. Have fun with this one and let your imagination run wild, that's the fun of costume play.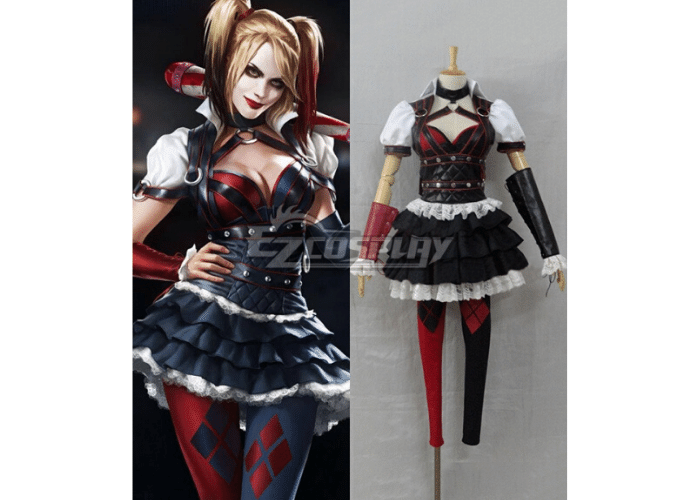 If you loved our girl in the Batman Arkham Asylum series then you're going to love this outfit. It's classic Harley and at a time when she had a hugely loyal fanbase long before Suicide squad or birds of prey. This outfit is incredibly detailed, with a tight corset style material around the mid-drift and across the chest, a wide frilly skirt, black and red contrasting pantyhose, and even leather arm covers that really ties the midsection in with the whole outfit. It's really well made and looks as if it has just stepped out of a time machine, one that takes us back to a time before the hot pants came into fashion and when Arkham Asylum was a terrifying prospect.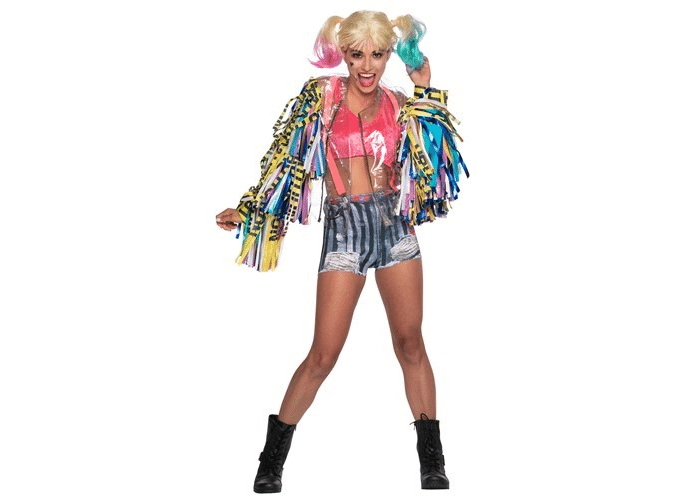 The birds of Prey movie showed us a Quinn who was worse, more likable, and even more eccentric than the last and her infamous costume was no exception to that. Bright, bold, colorful and cautionary, this birds of prey costume oozes everything that is Ms.Quinn and comes with everything you need to put your outfit together. This outfit should help you to release your inner villain, your cookie-cutter DC hero has been twisted and spat back out and we have been left with Harley so nobody best forgets that the infamous HQ is back and better than before.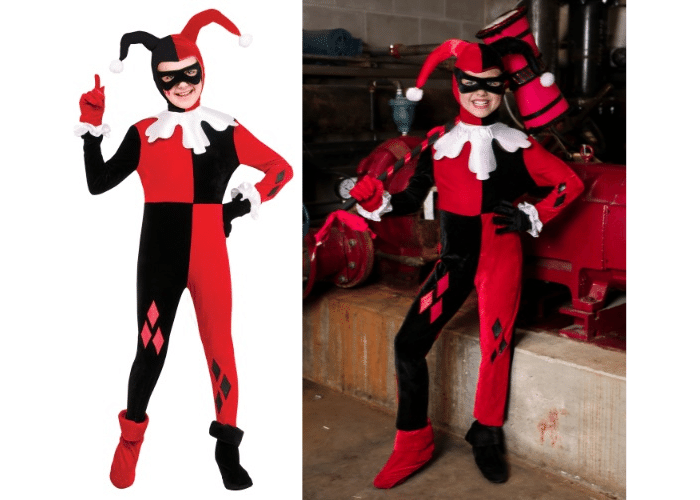 We all know that some children love to love the bad guys, not everyone wants to idolize batman or spiderman some want someone with a bit of flare, something new about them and something funny and daring. Lots of children love Quinn and I am sure we can all understand why. I wanted to include this costume for kids so that they too can feel like a part of history with a classic Jester jumpsuit, boy or girl, it's a great jumpsuit with red and black colors, a fun headpiece, mask and everything you need to bring her to life. Your child will be the belle of the ball this Halloween or at your next cosplay event as they channel their inner Harley jester.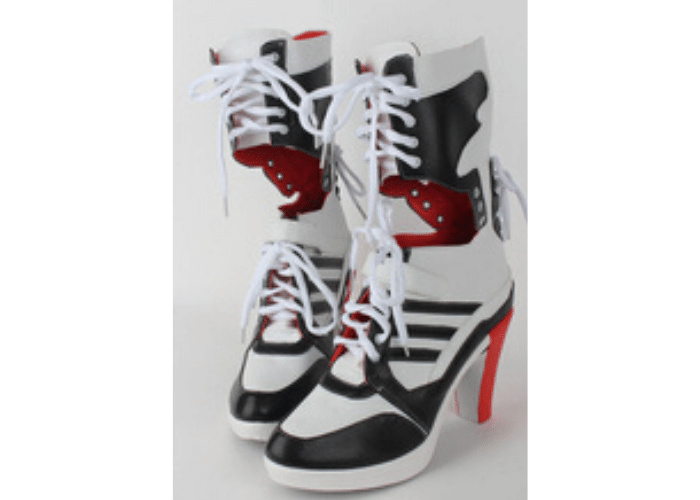 These shoes will take any outfit and make it even more legendary. This sneaker/heels could be confused with the weird sneaker/heel trend in the early 2000s but it is nothing to do with that, in fact, it's an incredible replica of the shoes worn by our anti-hero in the Suicide Squad movie. With black, red, and white detailing these sneaker heels are the epitome of our DC villain and will serve serious looks at your next cosplay or Halloween event.
We all know that our girl is covered in little Tattoos, some strange etchings, some slightly larger pieces but none of them can be missed and to really add onto your costume you can use these tattoos to spruce up your look and be even more convincing. They are easy to apply and look fantastic once they are on. Feel free to do your own thing with them, you don't have to follow the exact places that her tattoos sit, just do what feels right for you and experiment.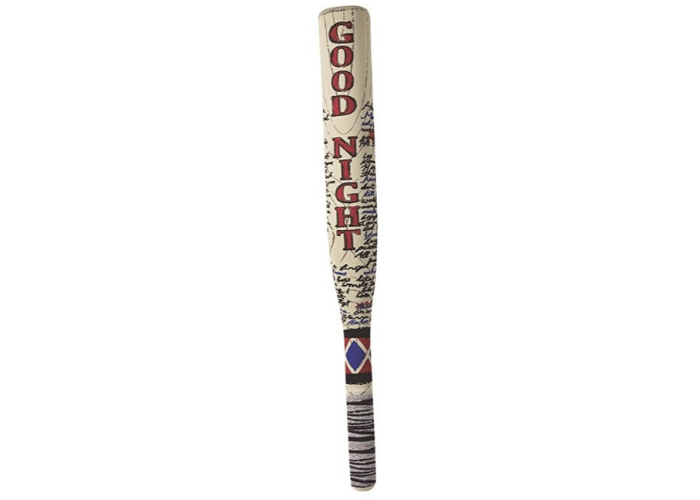 It isn't always essential but having an accessory fake weapon can really bring an outfit together and this bat will do just that. Carry it around with you under your arm, loose in your hands or over your shoulder, learn to pose with it, and enjoy the attention it brings. It has etchings and phrases all of it to really make it something quite unique and bring it some suicide squad vibes. or if you prefer the classic mallet this is where I got mine.
How To Make Your Own Harley Quinn Outfit (DIY)
This video on how to make your own outfit is amazing, the girl who did it is so talented and she explains the process in a really easy to follow way whilst still being thorough and informative throughout the entire video. You can really tell that she put a lot of thought into the video and all of the tiny tweaks that make it perfect:
If this is something you may want to try, even for just something fun to do or because you want to save some money on your cosplay outfit I recommend you getting yourself some blue and red fabric dye, a white shirt, a sewing kit, some red holographic sequinned fabric and some blue sequinned fabric, a blonde wig and you're good to go. You can download the 'Daddy's Lil monster' graphic and print it off or you can buy a white shirt with this already printed on to save you some time and messing around with an iron and fabric dye. All of this stuff you will re-use again and again even if you buy every single one of your items there will be something you will want to DIY one day, even if it's a hairpiece. The things mentioned are really inexpensive and they give you a great starting point and a great advantage to explore and experiment with your own costume.
How To Do Harley Quinn Makeup
Getting our girls makeup right isn't actually too hard, it just takes some getting used too. She is really, really white, the Joker kicked her into a vat of acid and the bleaching of her skin was the result. This pastie complexion is one of the keys to cosplaying her, along with the one blue and one pink eyeshadow eye, the black lined eyes, the red lips, and the little black heart under her eye. Also, her makeup isn't perfect, she is often disheveled so feel free to rub at your makeup and enjoy it going wrong!
I like to use this Clown makeup to get the white, it's easy to apply, you can apply it with a sponge or your fingers and done gently you can really bring out her complexion from your own skin. Just gently dab at your skin with the paint and don't make it perfect like you would when cosplaying a clown, you need to really dab at it and make your skin look 'sick'.
On both of her eyelids, she wears a different shade, one eye is pink and the other blue, along with a little black heart under her eye too which is painted on. I don't own any makeup palettes that have the exact pink and blue that I like to use when cosplaying Harley and also I love the black for those details such as the black heart and the 'rotten' tattoo so I like to use this palette, it has lots of colors and I use it for so many of my cosplay outfits, it allows you to create so many looks and the paint stays on for ages, you don't need re-apply like with some makeup brands. It's heavy-duty and made to last, which is why I love it, I don't need to worry about my makeup coming off and it looks really professional.
If you want to follow an actual makeup tutorial to get to grips with how it's done, I have left a few that will help you at any level. Of course use the things you feel comfortable with but just know you don't have to spend a fortune on makeup. I use my two things along with some eyeliner, mascara and maybe a little glitter here and there and my cosplaying look is always just how I want it.
Hard:
This tutorial is quite complex as there are a fair amount of products used but it isn't impossible and if you already have the things mentioned or even if you just want to follow her steps, it's a great video and she looks amazing at the end. Her whole look really ties together and she makes one incredible Harley.
Intermediate:
This look focuses more on the 'messy' aspect of her makeup, something I love to do with my own look. She really keeps on reminding us to make things un-perfect, mess things up a bit and really play with the makeup. It's a great tutorial and really easy to follow.
Normal:
This tutorial is cute and it's ideal for those who want to dress up and feel glam whilst still being the badass that she is. It has glitter, fake lashes, contoring and more. It's a really, really great tutorial and if a bit of glam is what you're looking for then this is definitely worth a watch.
Easy:
This tutorial it isn't basic but it is really easy and is one of those tutorials that literally anyone with any type of makeup skill could follow. She also doesn't use a tattoo transfer for her 'rotten' tattoo which I love as I like to sometimes do it myself too with my palette.
Harley Hairstyle Tutorial
Her hairstyle is pretty straightforward, especially if you're blonde. I like to use a wig as I most definitely not blonde (I am America born Asian) and it's just easier for me to put a wig on as it looks much better for me and it means I don't have to bleach my hair to get this look. This is the wig that I have, it serves me very well and I always get compliments on it.
Doing It Without A Wig (My Guide):
For her hair, if you don't get a wig, whether you're blonde or not you're going to need to part your hair evenly and then bring each side into a high pigtail, securing them with a hair tie.
You then will need to loosely curl your pigtails or backcomb them, however, you prefer.
Pull out two strands of hair from the front of your head (you can do this before the bunches if this easier) and let them sit on each side of your forehead. Y
You can then dip dye the ends of your pigtails into blue and pink dye (I recommend doing this before you secure the pigtails) or dye them by using powder or eyeshadow and rubbing it across the hair to bring out the blue and pink on either side without worrying about dying your actual hair as it just washes out.
It can be harder to bring out these colors with darker hair but not impossible if you are using really bright powders.
This is also a really easy to follow hair guide:
How To Act Like Harley
I always mention the importance of not just looking like your cosplay character but acting like them too and taking their catchphrases, their movements, and even their walk and body language and learning how they do it. It will bring your outfit to life every time and make you look even better. I find a lot of people forget this and if you ever have been to a cosplay convention before you will notice how much more the people stand out who can instantly act and talk like their character. Not for the whole day, that's tiring but when the time is right.
Harleys top catchphrases:
Remember she has a cute, cartoon-ish voice so when you are saying these things think of how she pronounces things in her Northeastern accent.
-"Mama's Gonna Paint The Streets With Blood"
-"Love your perfume. What is that, the stench of death?"
-"Harley Quinn, Pleased to Meetcha!"
-I'm the one they should be scared of. Boo! Not you! Not Mister J! Because I'm Harley freaking Quinn!"
– "Sorry, it's the voices. Haha, I'm kidding… That's not what they really said."
Harley is impulsive, she walks a certain way with one leg in front of the other, her head held high and never slumped. She likes to move around fast, recklessly, and always acts as if she has a trick up her sleeve.
Why Do You Love Her?
I would love to know why you lvoe cosplaying or dressing as Harley, do you have a favorite catchphrase of hers? How do you get into character?
Let me know in the comments below.
Love, Mia.