My name is Mia and I love all things cosplay. I get a kick out of it all and I love experimenting and trying new things with my costumes. Today I wanted to talk to you about the infamous 'Pennywise', made famous way back 1990. Cosplayers around the globe love to dress up as this scary clown at cosplay events and at Halloween (which then makes it a costume rather than a cosplay outfit but specifics don't matter right now!).
Us cosplayers put a heck of a lot of time and energy into our outfits and our costumes, I don't know about you, but for me they have to be perfect. So I am going to show you some of the best pennywise costumes and accessories out there so that you can be the best killer clown, no matter if it's a killer Halloween costume, a party you're attending of it it's for a cosplay event.
Who Is Pennywise?
Firstly I want to give you some little background on Pennywise, it's important to know a little fact about the character you are cosplaying as not only does it help you to get into character but it helps your outfit too. Pennywise became popular in 1990 in a movie called 'IT', it was all about a killer clown who terrorized a neighborhood. 'IT' was then re-adapted in 2017 and a second movie came out in 2019 called 'IT chapter two'. In all of these movies, Pennywise is just as murderous, just as scary and just as evil as he was in the very beginning. Pennywise isn't a human, he is portrayed as demonic, and otherworldly, he just lures children into his wrath by presenting himself as a clown. Pennywise is something to be feared, he isn't like a real clown, his makeup is extravagant, his costume is usually bloodstained and dirty and the infamous red balloon is just the beginning of this cosplay.
Why I Love Cosplaying This Scary Clown
I cosplay a lot of different characters, I love trying new things and being able to dress-up as Pennywise is so much fun. There is so much that goes into the makeup, the hair, the costume, the mannerisms, it is just a blast and if you're new to cosplay it's one that everyone is going to know so you won't be left with people wondering who you have come as, which is majorly awkward. Yes, it has happened to me but I won't get into that!
The Best Pennywise Halloween Costumes
It can be so hard as a cosplayer or even just as someone looking for a Halloween or dress-up outfit to wear. There is so much choice and sadly, sometimes if we shop in the wrong places what we see on the screen isn't what we get delivered to our door. I have had one too many costumes arrive that I could have made myself for half of the price. Luckily, I have been doing this for a long time now and I use some of the best online stores, they always deliver quality and my costumes always go down a treat.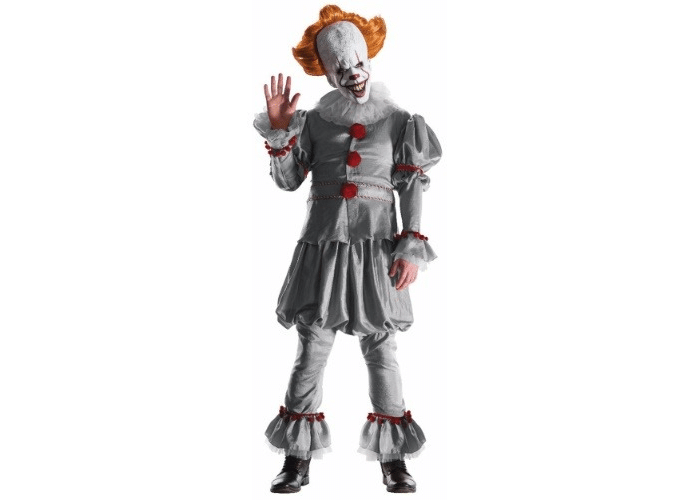 As the title says this is my favorite Pennywise costume, It looks expensive, it's high-quality, it perfectly encompasses the essence of Pennywise and it's scary. The costume comes with a shirt, pants, collar, and a seriously realistic mask, which is a steal. There's also an option for you to add-on accessories such as gloves, teeth, and a fake red nose. It's stretchy so it will fit most body types and it also comes in an XL so if you're a little larger than standard, you will be absolutely fine. There is also a sizing chart for you to check, just in case you are worried about sizing. This costume really doesn't require you to do much else, the only thing I do is use some black boots and I like to slip on some gloves.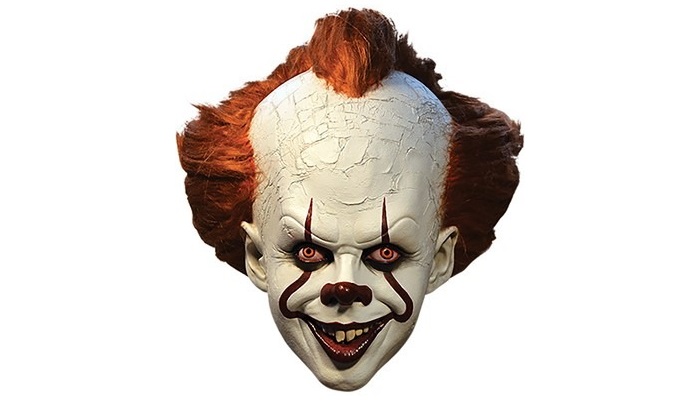 If you already have the costume and you want something to spice it up a little, this IT mask is terrifying. It's really well-made and has a foam cushion on the inside so you can wear it for prolonged periods of time without causing discomfort to your face. It's also made from latex which makes for a comfier fit. It's a very convincing Pennywise mask and you're someone who just wants something done easily with no need for makeup, or teeth in the case of this clown, this mask allows you to instantly transform.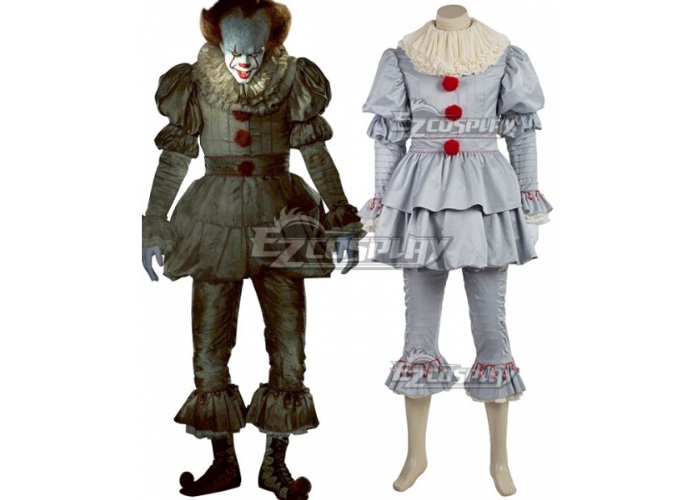 This Pennywise costume I find is actually surprisingly quite versatile, you can play the part of the killer clown by mixing this outfit with the mask from above, a very convincing, incredible Pennywise will be erected and you can be sure to be the best dressed with very minimal effort. Similarly, you can also use this costume for other characters such as creepy 18th-century jokers, clowns that aren't pennywise, dress it up with fake blood, another creepy mask, boots and you will have a few Halloween costumes right there waiting for you.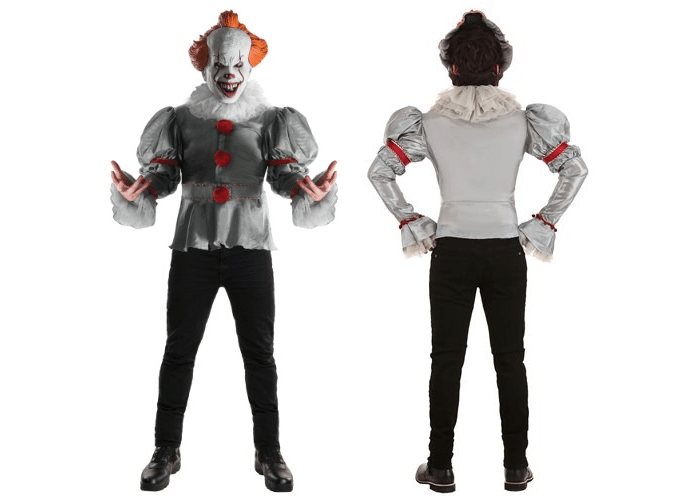 If you are on a smaller budget, you can still look and dress the part for the convention or party you are attending. This set comes with the collar, shirt and mask above, which can be paired with black pants and boots or any other pant you feel comfortable pairing with this set. The mask alone transforms the outfit but with the added collar ad shirt you are sure to be an amazing Pennywise. Some people don't like wearing the full costume so this is ideal for people who fall into that category and want to play around with what they are wearing.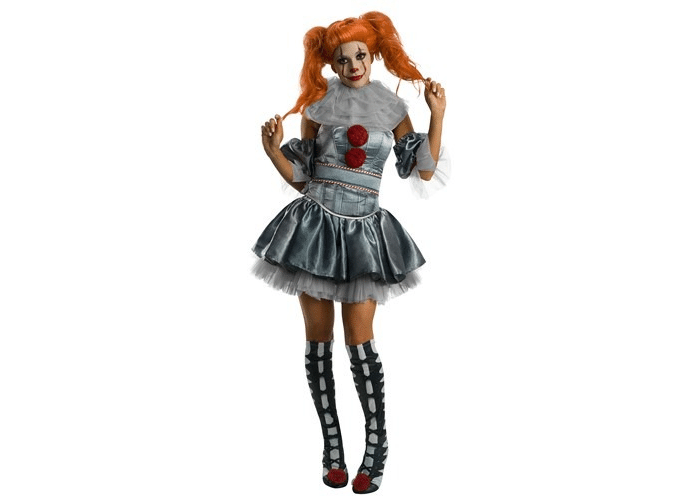 If you like to be a little bit outside of the box, there are other options such as this female Pennywise inspired costume. For those who want to add their own little twist onto the infamous character. It's great quality, a great price and the set comes with a pair of boot tops, the top, skirt, and the collar. You also have the option to add accessories to spice up the outfit a little more. It's a great costume, one that will turn heads and make you stand out amongst the other killer clowns. I do have another female pennywise option that I wanted to show you by clicking here.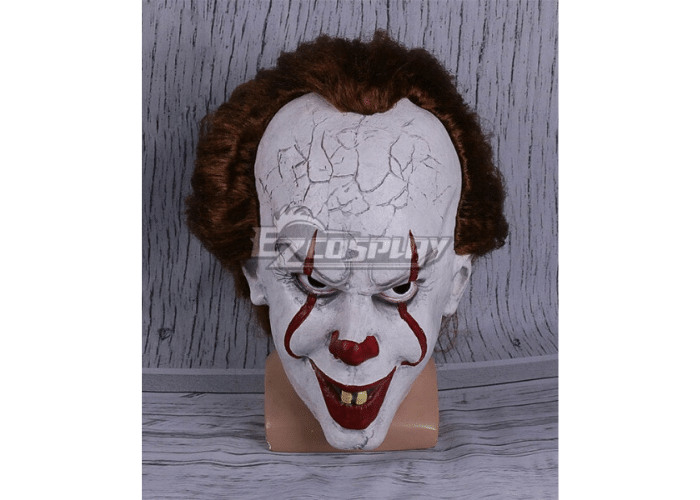 Made from latex this IT clown mask will take any outfit from a zero to a ten, it's spooky, the detailing is unique and convincing and it will transform your outfit. The hair on the mask is an added touch, the protruding teeth really bring the make together as well as the haunting signature large forehead. Slip this mask on over your head and it's actually pretty hard to look at yourself in the mirror!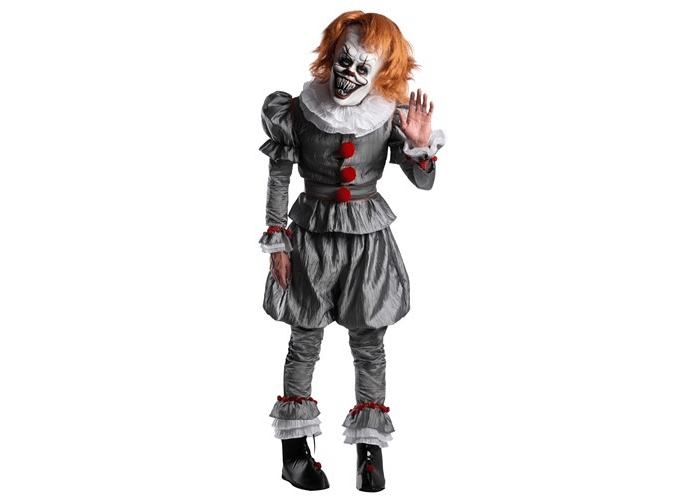 Creepy, convincing, and incredible quality this Pennywise costume based on the Pennywise of the later films, is a classic with cosplayers and Halloween enthusiasts. It is hauntingly beautiful and comes with a plethora of accessories. With this set you get, the shirt, pants, collar, belt, full-head mask, shoe covers, and gloves, it's really a bargain for all of the accessories and the costume that you're getting.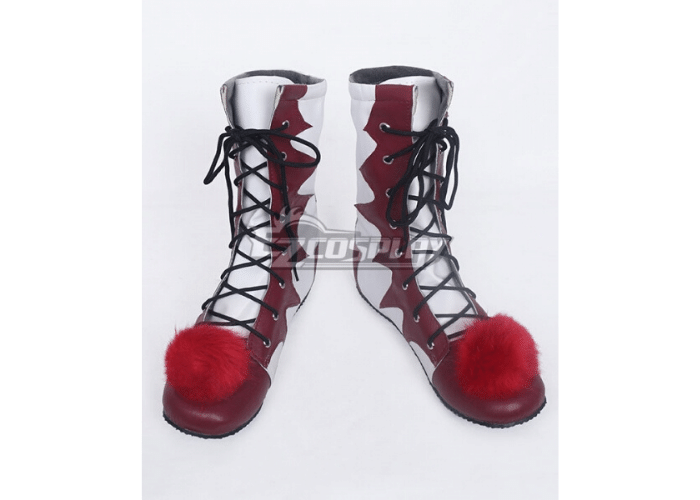 Most outfits don't come with shoes, just shoe covers but it is nice to really transform a look with real shoes, especially if you're into cosplaying Pennywise and you want to make an impression. These are creepy and I haven't seen them anywhere else, the contrasting red and white give off a circus vibe whilst the red pompoms really give off a creepy clown vibe with them. The company also tailors the shoe to your foot so you can be sure of comfort and you can wear them again and again.
You can also get these cute female clown shoes that have a little bit of a heel I just had to show you .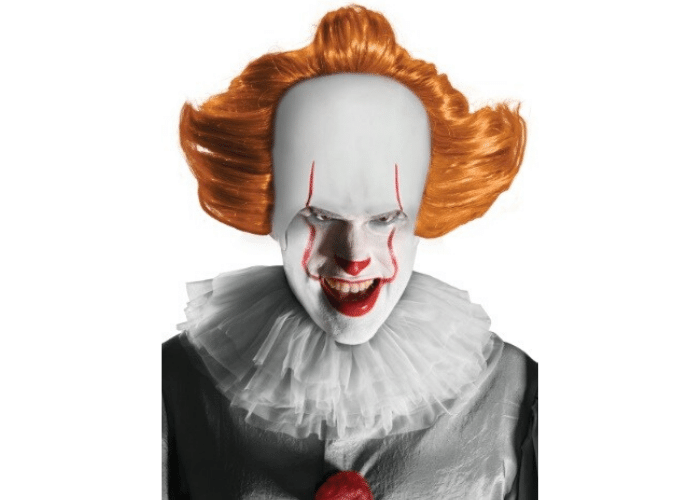 Made from latex this mask/wig combo is a real favirite amongst many cosplayers and halloween enthusiasts. Made from synthetic hair on a mesh cap this wig encompasses the head and gives you the iconic large forehead look without compromising on quality. It also comes with a red makeup stick so that you can experiment with your look and complete the lines and scary features of Pennywise however you wish.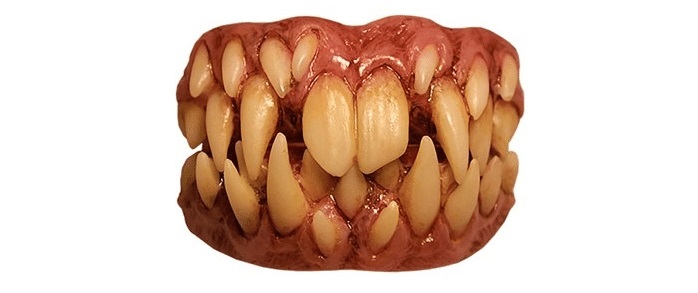 These teeth are quite frankly disgusting but for Pennywise they are a match made in heaven. Iconic looks need iconic accessories and these teeth are perfect for completing Pennywises' look at home. You get the bottom and the top teeth, they fit comfortably inside of your mouth and transform your Pennywise look. Also you can use them for other costumes, they don't just have to be for this one evil clown. The teeth are so vile and evil-looking that you will get a lot of use out of them whenever you need to trandform into a scary villain.
DIY IT Clown Options (Mix & Match)
I DIY quite frequently and I especially did this in the beginning when I didn't know where to buy outfits from and when I didn't have a job so I couldn't exactly buy the things I actually wanted either. I now buy most of my stuff but DIY is still a big part for me as I like to try and do my own makeup without needing masks a whole bunch and I try to make my own accessories from time to time.
I love mixing and matching different accessories to make the perfect outfit. Experiment with makeup (more on that below), get handy with sewing, and make your own costume, try and narrow down his mannerisms and get that creepy vibe down to perfection.
For Pennywise I'd recommend this outfit, with the best mask and then shoes.
Get some cool creepy balloons and some white gloves. Then go wild with makeup, hair, and accessories.

Pennywise Makeup Guide
If you want to create the look without the mask I have linked some of my favorite makeup tutorials that are super easy to follow and really give you a great guide and insight into transforming your face into the infamous clown.
You can speed up all these makeup tutorials, but getting this half mask as it gives you a great starter base and gives you that elongated forehead as well as the crazy hair.
Advanced makeup tutorial:
This advanced makeup tutorial isn't for the faint heartted for one as it is truly scary but the reason I included it is because it shows you what possibilities there are with makeup and special FX makeup. Anything can be achieved with some practice and persistance and learning how to create a terrifying pennywise such as this one will open up the doors for you and allow you to DIY certain parts of your costume and allow you to feel really connected to this demonic clown.
Intermidiate makeup tutorial:
This tutorial is still daring but it is slightly easier than the one above. It's easy to follow and with the right tools and practice possible for anyone to recreate. These things do take time but by perfecting step by step you will get there, especially if creating these looks by yourself is something you are striving for. Perfecting your red lines, white base, smokey eyes and eyebrows should be your first priority before moving onto the more complicated things such as the large forhead blending.
Basic makeup tutorial:
If you want something easy to follow, something that is easier than the others to master then I love this basic glam Pennywise tutorial. It doesn't call for as many tools and it is fairly straightforward. It will require a little practice as does anything but it will be worth it in the end, especially if you want to give your Pennywise a little bit of glam and a little bit of an edge.
I love using YouTube to help me create a new character, it allows me to get to grip with the basics and then once I have done that I find I can explore more of my own creative freedom. It's so mcuh fun to just learn new tricks too, things you didn't think you could create you can with just basic tools.
Characteristics To Master (Bringing Out Your Inner Clown)
Great cosplayers or Halloween enthusiasts love to master their character and to do that you may want to think about mastering some of Pennywise's traits. His walk, his eye movements, his laugh, and so on. Narrowing these things down will allow your costume to come alive, it will give you confidence and it will make you feel even closer to the character you are portraying.
Catchphrase/Quotes You Need To Remember:
To help you on your way, these are just a few of the things that Pennywise famously says, once you master these, you're halfway to becoming the scariest clown cosplayer inside of that room.
-"Here, take it. Take it Georgie"
-"Oh! Well, I'm Pennywise the dancing clown!"
-"I'll kill you all! Aha, I'll drive you crazy, and I'll kill you all! I'm every nightmare you've ever had. I am your worst dream come true!"
-"They float, Georgie, and when you're down here with me, you'll float, too–"
Let me know how you get on with your Pennywise transofrmation and be sure to leave your comments below!
Love, Mia.