I'm Mia and today I wanted to share with you some to die for vampire costumes that are must-haves for any party-goer or cosplayer. It can be hard to find genuinely different and interesting vampire costumes, especially ones that don't break the bank and are actually high-quality. Having done cosplay and dress-up for years now, I know where to shop and I have included for you my must-haves for anybody looking to transform into a bloodsucker.
Want To Become A Bloodsucker?
It's more than just fangs, fake blood, and capes, becoming a vampire requires you to really fall in love with the costume. I don't let friends go to these events without the proper costumes so I wouldn't let you either. Let me show you the perfect outfits to match your inner vampire. Once you have the outfit, the makeup, you need the mannerisms, the walk, the talk and you need to really believe in your costume.
Cosplaying A Vampiress Makes Me Feel So Good
I know some of you reading this may be looking for Halloween costumes or for a vampire costume in general, but there are people like me that actually enjoy dressing up and attending events as different characters if this character is from a movie, game, comic or tv show we typically go by the word 'cosplayers' and going as a famous or villainous vampire or vampiress makes me feel incredible.
Obviously, we have Dracula, count von count, Bella Cullen, etc to dress-up as and there is an endless list of elite vampires for you to choose from but I personally don't like just picking one when it comes to vampires, I love dressing up and being a new vampire character, I particularly love the mannerisms of the vampires and the overall costumes, it's so much fun and whatever the reason you're buying a vampire costume, it's really great just for your own fun to try out something new. The fun thing about vampire costumes is that they are versatile, by just tweaking a few things you can come to become a new vampire each time, which is so useful and a lot of fun.
The Must-See Male Vampire Costumes
I have separated the two types of costumes you can buy into male and female, however, of course, depending on your preferences, your gender, or whatever else you can flick between both to choose the costume that is right for you and for your needs, separating them into male and female just makes it easier for you to browse through. I use these sites religiously and can vouch for the quality and standards they withhold. They are a great place to find anything cosplay related. I love to ramble so let's get on into the vampire costumes that will make you stick out in a good way at your next event or party.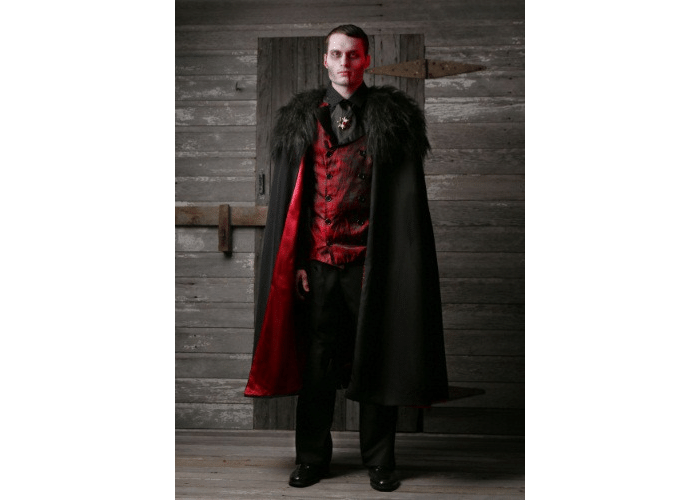 A delightful vampire costume for those looking for the classic, vampire look. This set comes with the cape, cravat with pendant and the vest. You can dress this look up by applying makeup and adding fangs and gloves or keep it simple how it is and pair with just some black trousers and black shoes. It's a old school classic but with a lot of quality and a cape that can be used with other costumes too.
This costume is ideal for those looking for something that looks like its just stepped out of the 17th century, it's got an old fashioned feel about it, adding to the idea that you may or may not have just stepped out of your coffin that you have been sleeping inside of for centuries. This set is great quality and it comes with lots of accessories to make this outfit complete and make it the perfect attire for whatever type of party you are attending.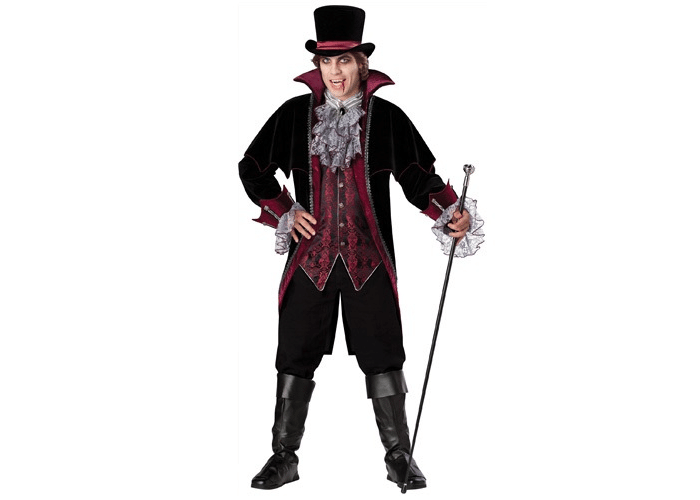 A truly convincing costume that echoes of a time where vampires were shunned and hidden away, it boasts frills, satin, and lace, making it out to be a classic piece of history all rolled into one. This Versailles vampire costume is ideal for the wearer who wants to appear as a count with a hidden secret, a count hungry for blood. It's a really well-made costume with an air of quality about it, a quality that flocks people to it, a quality that makes them think twice about crossing you.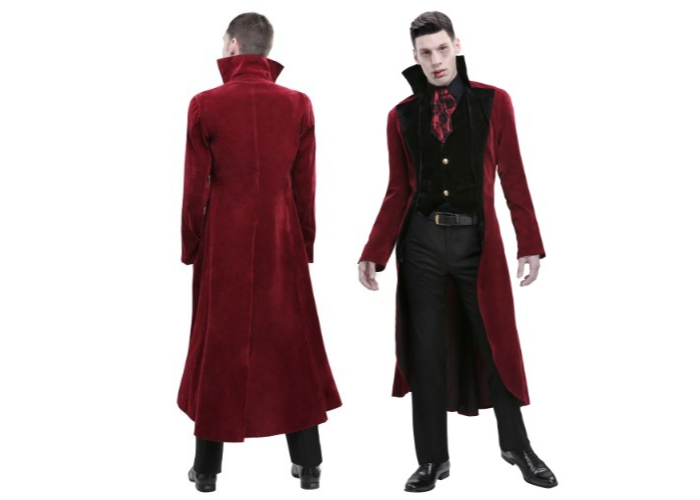 This costume differs a little bit from the others, it has an essence of modernity about it. The long velvet coat paired with the vest and the ascot gives this costume a bit of a makeover. It takes it out of the 17th century and it leaps vampires a little more towards more modern times, a time when velvet oozed sophistication. It's a great costume for the modern vampire who still wants to show his heritage off, it's great quality and again the long jacket can be paired with many other costumes.
The Must-See Female Vampiress Costumes
Dressing as a female vampire is great fun and there are so many things you can do to an outfit to really transform it, such as adding different colored panty hose, pants, shoes, etc. I love having fun with my vampiress outfits and although I do still dress as a male vampire from time to time, that's the beauty of costumes, you can be whoever you want to be.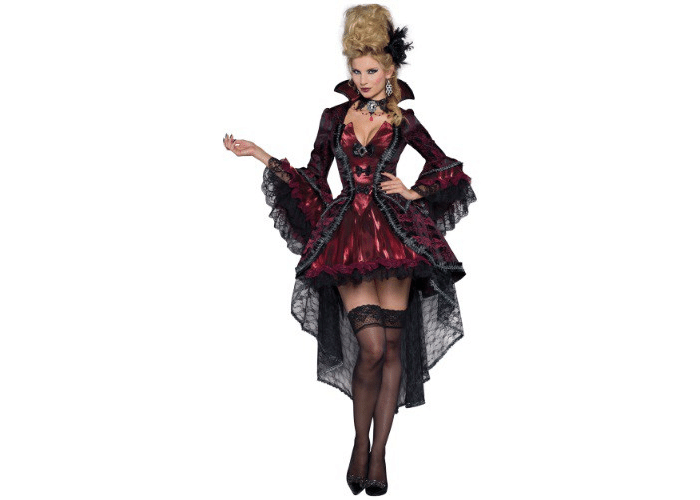 Elegant, victorian and so not what people expect when you say you like to dress as a vampiress. This costume has an air of true victorian elegance about it, with the intricate lace detailing, high collars and corset style dress. Dress this outfit up or down by doing a lot of backcombing to your hair or wear a long black wig to complete the victorian look of this costume, the choice is yours.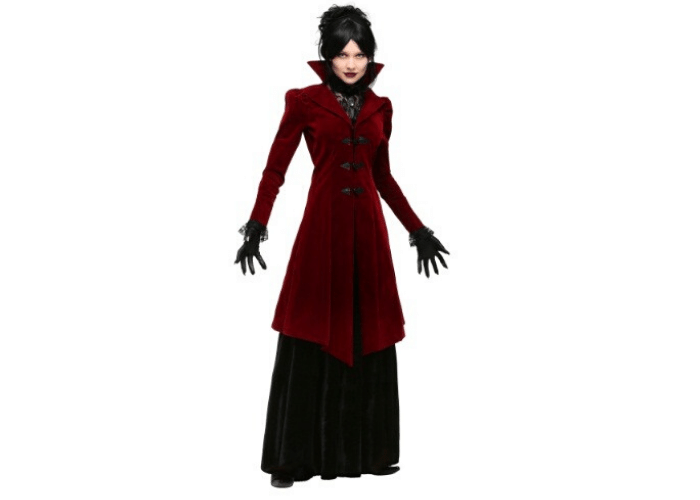 This is its matching male counterpart, this vampiress costume features a blood-red long-lined jacket with classically vampire high collars (red to symbolize your desires of course), a velvet skirt for a hint of modern charm and a delightful dickey to top it all off. This costume keeps Vampires in the modern century but it is also a classic look that is ideal for those looking to be a little more discreet about their identities whilst also respecting their background. I like that this costume has a matching male counterpart, it makes it really fun and means you can turn up looking like Mr. and Mrs. Adams.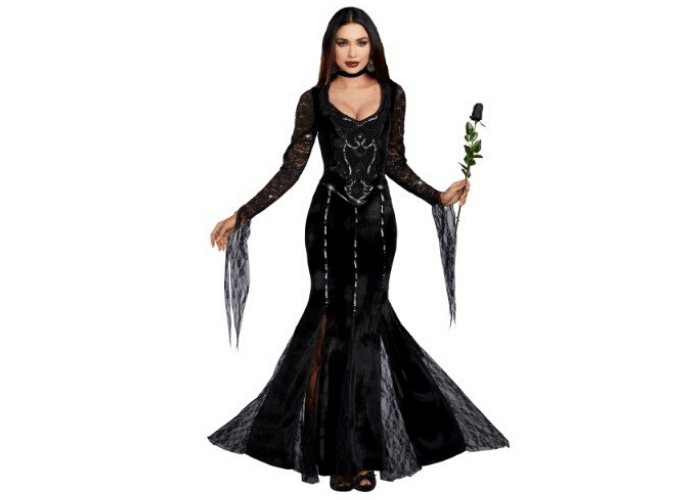 This gothic dress is ideal for those expressing their inner Morticia whilst also looking elegant, sexy and like a true bloodsucker. It's a flattering dress with lots of potentials to dress up or down (wigs, makeup, fangs, shoes), you can make this dress your own and get plenty of use out of it. The lace detailing gives it an air of sensuality whilst keeping the vampiress theme throughout. It's a delightful costume, that will look stunning on any wannabe Morticia.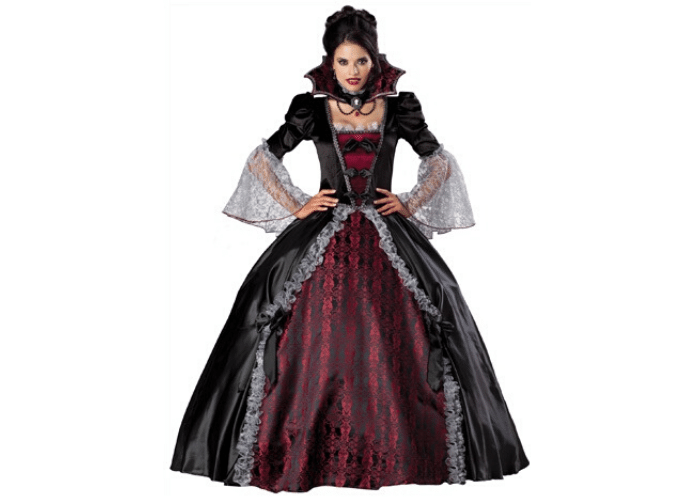 Emerging from your castle this Versailles vampiress costume will turn heads wherever you're wearing it. The male counterpart is available so you can rock up as a powerful duo, ready to slay and suck some blood. This outfit is gorgeous and really is ideal for those looking to step up their vampire game a notch, it's classic, old-school, and jaw-dropping.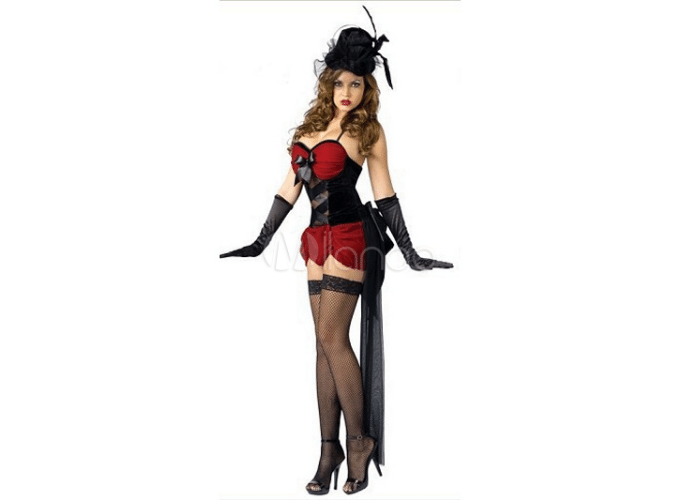 If showing a bit of skin makes you happy then this sultry and sexy vampire costume is going to turn heads and make you feel incredible. Designed to show off, the detailing of this costume really emphasizes your character as a vampire, a vampiress who has been waiting too long for this party and wants some blood now. Lure them in and strike, this costume is a classic with a big modern twist.
This is meant to be for those who want cosplaying or dressing up as little red riding hood, however, that's the beauty with dressing up, things don't always have to be worn for one specific thing. With this costume, you can easily pair it with some fangs, white vampire makeup, a little fake blood and you are now a cute, devilish vampiress, who is ready to attack. You get the dress and the hooded cape which can be worn again and again and you can style this however you wish and transform yourself into a forest loving vampiress.
Kids & Toddler Outfits
I thought I would include some outfits for children too, some people like to make sure their kids look amazing at Halloween or at themed parties, some bring them along to conventions and some just like dressing up! I don't have kids myself but I know people who do and I love seeing children putting a lot of effort into their costumes so here are a few of my favorites.
Putting Your Own DIY Costume Together
If money is tight and you want something a little more purse friendly here are a few tips you can use to really make a vampire look without spending much money.
Get yourself a white shirt with high collars, you can buy these fairly inexpensively, just remember the bigger the collar, the more convincing your vampire is going to be. Gothic makeup is all about looking pale and sleep-deprived so get yourself some face paint and gently stroke in some black under your eyes, a little red dribble coming from your bottom lip using face paint or fake blood also emphasizes what you like to do for fun.
Gothic jewelry can be anything from chokers to lacey necklaces and earrings. You can also add on some stockings, a garter, fishnets, a cape, and don't forget the fangs.

These Are Must-Have Vampire Accessories
These are just some of my must-have vampiress accessories, of course, you don't need to have these to complete your look but they do help to round it off for me and I love having an accessory or two, I find it brings my outfit together.
Fangs: These fangs are simple to use, are easy to assemble and give you a terrifying addition to your grin. Bring your inner vampire to life and feel comfortable as you sport these ghastly fangs.
Vampire Blood: No vampire is complete without a little blood, wether it's on their neck, running down their chin, coming from their eyes or spattered on their costume. One must always be remembered what vampires like to drink.
Gothic necklace and matching earrings: Bring an outfit together with these cute goth inspired accessories, they make your face pop and really accentuate your inner goth.
Women's Shoes: Women's over knee gothic boots which are sexy, badass, and can be worn again and again or these goth boots which are more hardcore but can also be worn with other outfits.
Black wig: The black long hair is famously associated with withces/vampires/goths and this is no different. This wig is high quality and will allow you to experiment and transform without needing to dye your actual hair.
Bat wings: Bat wings aren't essential but all know vampires love bats so why not associate as one with some chiffon bat wings. Easy to wear and they bring something a little different to the table, you're a vampire but a vampire with bat wings.
Vampire cane: I don't know about you but I always imagine vampires walking through their manor homes with canes clicking beside them despite them having no leg ailments. It's a popular accessory and the cane makes you look more respectable and convincing.
How To Do Vampire Makeup
A lot of trial and error comes from doing makeup for any kind of costume but vampire makeup is actually pretty straightforward.
Like anything it can be as difficult or as easy as you want to be, it just takes a little practice and a look you have in mind. Below I have left some of my favorite tutorials for you to follow so that you can get that look down to a tee.
You should get a fx make up kit I love this kit it allows you to really experiment and get a little wild with your creation, I have found it comes with everything you need to get started and you don't just need it for vampire loooks but for virtally any other look that you want to add a little detailing too. If the chracter you are playing has a scar, pimples, if they are bleeding or they looking a little pasty, or if they have a smaller nose or no eyebrows, a kit allows you to experiment and coming from me, you really don't need to have any special skills to use it.
Here are some makeup tutorials you can try following, they are all fairly straightforward and you can easily chop and change the things you like and don't like. Putting your own spin on things is always for the best and allows you to really get your creative juices flowing.
Bloody Vampire:
You're going to need fake blood for this one, it perfectly embodies a vampire that has just feasted upon something it found delicious. You can follow it all or just see how this artist gets such a great bloody mouth or red ringed eyes. It's really interesting to watch and will give you some great ideas for your own vampire transformation.
Seductive Vampire makeup:
I love this look, it's a sinister yet seductive look that really brings out the sultry element and torturess ways of this vampiress. Just like with the other tutorial you can follow it word for word or just take some of the elements you like such as the eue makeup and how to make your eyes look seductive, the pale skin or even the dripping fake blood.
All Round Tutorial:
This tutorial gives you three impressive vampire looks so that you can choose one that suits your needs and the look you are going for. One is pretty simple yet seductive the other more hinting at the vampire elements such as the red ringed eyes and chiseled look and the third look a vampire who is quite clearly a vampire and one who loves blood and isn't afraid to show it. Take from this tutorial your favorite elements and make your own look, a little practice goes a long way.
If you are someone who doesn't want to follow a makeup tutorial, using white face paint and some fake blood looks really great too, don't feel overwhelmed by makeup.
The Basics Of Being A Vampire (How To)
I always say that mannerisms are the first step in becoming a vampire with your costume so below are some helpful hints and tricks on how you can be convincing once your costume is in place.
Vampires are confident, they walk with their backs straight and they ooze sophistication and elegance.
Vampires like to lick their teeth, it's a characteristic they all have in common.
Vampires are sultry, not loud and they can pierce through your soul with their eyes so work on your eye piercing looks.
Vampires lust for blood so every human looks like a little afternoon snack to them.
If you have any more tips into becoming a vampire, leave them below, I can't wait to see what you do to get into character.
Love, Mia.